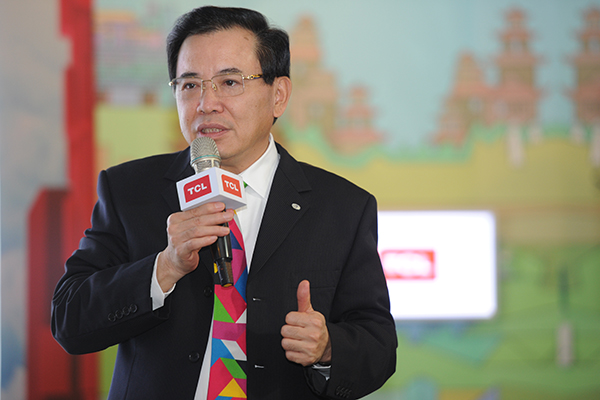 Li Dongsheng, chairman and CEO of TCL. [Photo provided to China Daily]
Home appliances, electronics firm also sees 1b yuan shaved off profits as demand falls at home and abroad
Home appliances and consumer electronics maker TCL Corporation reported year-on-year growth of 3.51 percent in revenue last year, much smaller than its target growth of 18 percent,amid growth pressure on both the country's foreign trade and domestic demand.
TCL earned 104.6 billion yuan ($16 billion) in revenue in 2015, according to the annual financial report released in Shenzhen on Tuesday, a sharp slowdown in growth compared with that of 18.41 percent in 2014.
"Starting in the second half of last year, the general economic climate turned bad in both the domestic and overseas markets. The downward pressure on both sides happened at the same time, which was really challenging for us," said Li Dongsheng, chairman and CEO of TCL.
Europe hasn't found a way out of its economic crisis yet, and some emerging economies especially in Latin America suffered wide fluctuations in their exchange rates, said Li, listing the key challenges for TCL, one of China's major exporters of TV sets and cell phones.
But the company saw robust growth in the United States last year, with sales of its cell phones increasing by 73 percent year-on-year and LCD televisions by 180 percent.
Overseas revenue accounted for 46.5 percent of TCL income from its main businesses, the annual financial report shows.
"Our overseas sales mainly came from the US and European markets. Yet still I think emerging markets have the biggest potential in business growth for Chinese TV and cellphone makers as the consuming power in these countries increases," Li said.
He revealed TCL has launched a project to build a manufacturing base in Egypt and is also considering building such bases in India and Brazil.
Despite a tantalizing macroeconomic environment, Li said the company aims at bigger annual growth in revenue this year, hopefully above 10 percent.