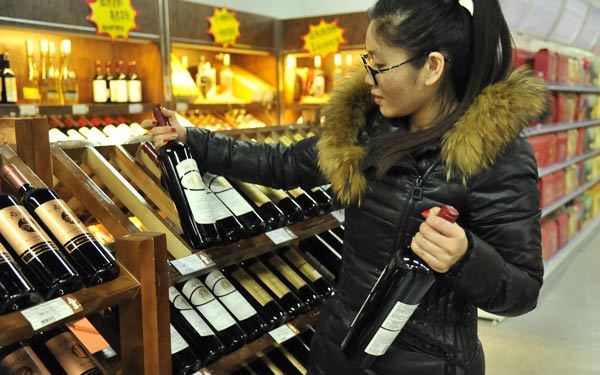 A customer considers imported bottled wine at a market in Qingdao, Shandong province. [Photo provided to China Daily]
After taking his seat on a Ningbo-Shanghai bullet train around 2pm, Zhang Zifan, a 26-year-old programmer bound for Shanghai, fished out a small bottle of still-chilled Grenache from his shoulder bag.
"I bought this 250ml wine from the supermarket near my hotel yesterday evening and chilled it in the hotel-room fridge. Now, it's going to refresh me during this 300-kilometer, three-hour journey," said Zhang.
A small bottle of wine costing less than 100 yuan ($15) is Zhang's remedy for a tiring business trip. Many of his young friends also have formed the habit of carrying a bottle of wine on work-related trips, he said.
"I think wine lovers in China care less about when and where to consume wines-we care more about the quality and taste of the wine, and whether the wine's style is exactly what we want," said Zhang.
China's wine market and wine consumption culture have been changing in recent years, with more consumers, particularly those aged under 50, exploring new grape varieties and production areas.
According to a research report from Soochow Securities Co, young, wine-savvy consumers are spending a lot of time reading and studying wines. They are glad to try out a wide range of wines from all over the world through wine-tasting events held by winemakers or cellars. They are taking courses offered by organizations like the Wine & Spirit Education Trust to understand wines.
According to the WSET, some 6,000 Chinese wine lovers have applied to sit for exams for certificates and diplomas at various levels in 2015, up 13 percent year-on-year.
The Soochow Securities report said increasing numbers of young consumers who frequently drink wines have become a growth driver for the sector, and benefit imported wines particularly.
According to the report, in 2015, China saw a 44.58 percent year-on-year growth by volume in imported wines. Sales grew 34.3 percent year-on-year to 26 billion yuan.
This, according to yesminewine.com, an online wine services and information provider, accounted for some one-third of the entire market size of 78 billion yuan.
"Before 2013, much of the consumption was at business banquets, where higher-end wines from the Old World (wines made in Europe) were popular. After 2015, the China market recovered gradually as wines became more affordable. The average price dropped. More consumers are now exposed to more wine varieties," said Mark Mo, a wine trader based in Xiamen, Fujian province.
As knowledge and understanding of wines deepen among China's consumers, they are willing to try out emerging brands from the New World, including products of smaller vineyards from China.
Liu Bingbing, a 32-year-old Beijing-based operations manager of a startup. said she likes sparkling wines from some vineyards in Northwest China's Ningxia Hui autonomous region.
"The quality is good, and, by blind tasting, you'd think they are from premier vineyards in France. In the past, I used to drink only branded wines that I noticed in TV dramas, films and in-flight magazines.
"Now, I think before I drink-I understand wines are influenced significantly by geographical features and local grape cultivation traditions. I'd love to try different wines from all around the world, and all across China," said Liu.