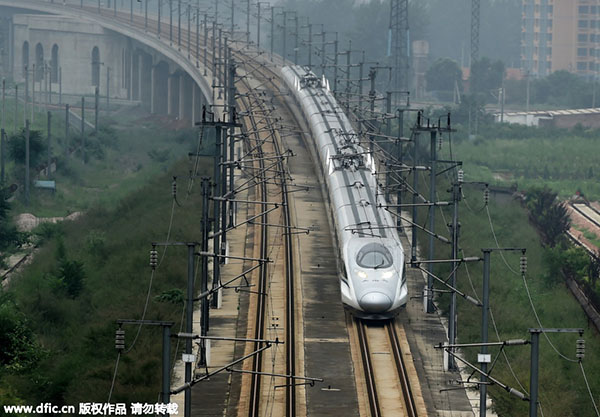 A train pulls into a station in Luoyang city, Henan province, June 30, 2015. [Photo/IC]
NAIROBI - Kenya and China Communications Construction Company (CCCC) has signed an agreement for the construction of the Standard Gauge Railway (SGR) line from Naivasha in northwest Kenya to Malaba in western Kenya.
A statement from the Kenya Railways Corporation (KRC) received on Tuesday said the Chinese firm will develop Naivasha-Kisumu/Malaba SGR project, Kisumu Port and the Inland Container Depot at a total cost of $5.3 billion.
"The government has secured a loan from Chinese government to support the development of Phase 2A (Nairobi-Naivasha) and construction will commence in 2016. The total contract price for this section is $1.5 billion," Kenya Railways said.
The Commercial Contract for the construction of Phase 2A of the Nairobi - Naivasha SGR was signed by CCCC in September 2015.
China agreed to fund the first phase of a standard gauge railway line linking the East African nation's port city of Mombasa to Uganda, Burundi and South Sudan.
Kenya Railways said the four commercial contracts for the development of the four elements of the project include Naivasha-Kisumu, Kisumu-Malaba, Kisumu Port Development and Modernisation and expansion of the Inland Container Depot at Embakasi in Nairobi.
"The signing of these contracts valued at $5.3 billion marks yet another significant milestone regarding the Kenya-China cooperation for the mutual benefit of the peoples of the two countries," it said.
The railway firm said Kenya recognizes the task of developing and efficiently running the project is not a walk in the park and has initiated a training programme to build capacity and equip Kenyans with the necessary skills required to build the rest of the network and subsequently operate it efficiently.