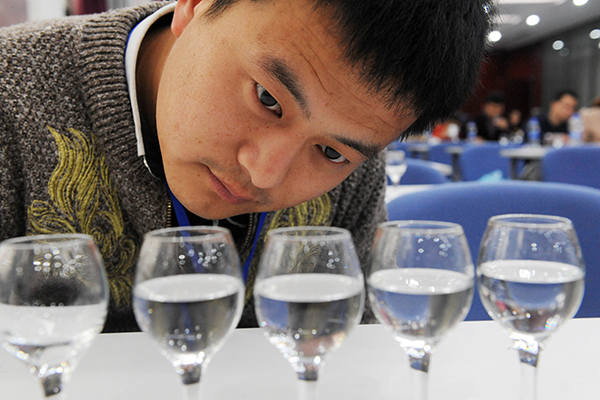 A man examines baijiu during a liquor-tasting contest in Bozhou, Anhui province. [Photo/China Daily]
Younger consumers get heady on new packaged versions of Chinese liquor baijiu
Young and middle-aged Chinese consumers are taking a shine to Chinese white liquor called baijiu anew, thanks to innovative marketing and packaging strategies of alcoholic drink makers.
Sun Bowen, 48, a Shanghai-based beverage wholesaler, saw evidence of the trend when he visited the 94th China Food and Drinks Fair in Chengdu on March 24. He was impressed by the fashionable designs of packaging material and containers for Chinese white liquor products on display.
"Those little bottles of silver, purple, pink and neon look so shiny and glamorous with slogans and cartoon images. Young people in their 20s and early-30s really like them. In the past, only a small number of brands would try to use such designs. We market insiders used to think such stuff was too flashy and wouldn't last long. But now, such styles have become part of the mainstream. Many top brands have launched such products," said Sun.
To go with the flow, Sun placed some orders for such products at the fair. He is confident they will sell well in Shanghai.
"Old liquor consumers are brand-sensitive. They prefer liquor that tickles their tastebuds. But young consumers are packaging-sensitive. They prefer bottles that are eye candy. If we lose younger consumers, the white liquor sector would struggle to survive, given their exposure to a wide range of choices from all around the world," Sun said.