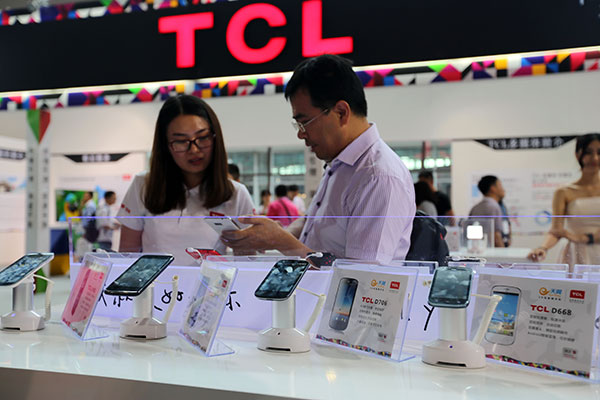 The TCL booth at a mobile phone expo in Guangzhou, capital of Guangdong province.[Photo/China Daily]
No other major economy in the world is doing as poorly as Brazil. Yet TCL Communication Technology Holdings Ltd is investing in new hires and wider distribution of its Alcatel brand phones in a plan to gain market share from competitors.
The Brazilian unit of the Chinese phonemaker is now selling directly to 50 retail clients and 10,000 stores, compared with 15 clients and 3,500 stores a year earlier, according to Fernando Pezzotti, president of TCL's Alcatel brand in Brazil. It has hired additional sales staff to work with big retail chains in the country, including Magazine Luiza SA and Via Varejo SA's Pontofrio, in an effort to increase in-store sales of phones.
"The Brazilians like being connected with a state-of-the-art device," Pezzotti said in a phone interview from Sao Paulo. "We are seeing this moment more as an opportunity than as a crisis. For us, it is time to gain space."
In Latin America, TCL's Alcatel is the No 2 phonemaker in terms of sales volume, Pezzotti said, citing data gathered by the company. In Brazil, it's ranked fifth or sixth.
"We want to change this scenario," he said.
While Latin America's largest economy is expected to shrink 3.8 percent this year, on top of a 3.8 percent contraction last year, the number of mobile-device users in the country-more than 200 million-remains attractive long-term, Pezzotti said.
In the first half of this year, the company plans to introduce a new phone brand with models that cost less than 1,000 reais ($277) each. In the second half, it will debut different ones that cost more than that, Pezzotti said.
In all, Alcatel expects to sell 40 million devices in Brazil in 2016, he said.
China's TCL had operated globally under the Alcatel OneTouch and TCL brands. In addition to smartphones, the company also makes tablets, wearables, mobile routers and other devices. Alcatel OneTouch was established as a joint venture of France's Alcatel-Lucent and TCL but is now a wholly owned subsidiary of the Shenzhen, China-based company.
The company has dropped the name OneTouch from its brand and will be just "Alcatel," Andre Felippa, Alcatel's vice-president of marketing for Latin America, said at a news conference last week.