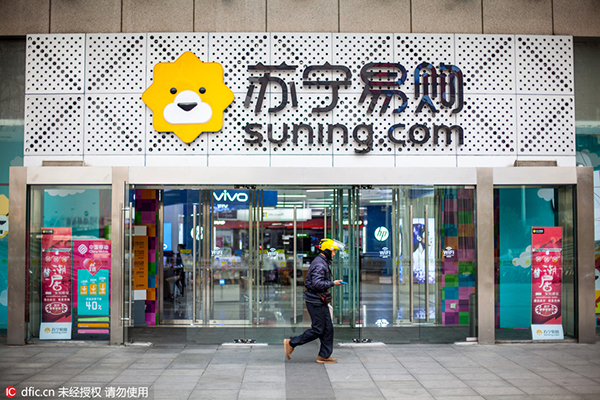 A pedestrian walks past a store of Suning.com, the online shopping site of home appliance chain Suning, in Shanghai, Jan 19, 2016. [Photo/IC]
Suning Commerce Group, one of China's largest electronics retailers, has unveiled plans to create a wholly separate investment arm.
Suning Investment Group will be based in Shanghai and housed in its own building, and is targeting total assets under management of 50 billion yuan ($7.7 billion) within five years.
Officials said Nanjing-based Suning is also setting up two other separate investment funds, worth 2 billion yuan, respectively, by the end of this year, to specialize in media, content production and other creative industries, and sports consumption and retailing.
Up until now, Suning's investment activities, run under the same name, have been spread across three separate funds.
Suning Rundong Fund is worth 5 billion yuan and has targeted a diverse range of sectors, including technology, media, telecommunications, and the cultural and entertainment industry.
Suning Goldstone Fund, started two years ago, is worth 4 billion yuan and focuses on retail infrastructure such as physical stores and logistics.
The 300-million-yuan Qingchuang Fund focuses on startups, particularly those specializing in emerging industries.
Sun Weimin, Suning's vice-chairman, said with strong investments already made in retailing, property and consumption, the time is right to accelerate the company's outbound investment in other directions too. But he admitted the current investment market is highly competitive.
Yang Yang, vice-president of Suning Investment Group, said: "As most industries are closely connected, every company is constantly faced with challenges brought about by new business models and operations.
"To stand out from its peers and make a breakthrough, it is of utmost importance to invest earlier."
Since its early days as an air conditioner retailer in 1990, Suning has grown into a huge operation, spanning commerce, property, cultural and creative industry, investment and financial services.
It has been investing heavily in recent years.
Its latest move was the 1.93-billion-yuan acquisition of a 33.33 percent stake in smartphone maker Nubia Technology Ltd, a subsidiary of ZTE Gorp, at the end of last year.
In 2013, it also became the largest shareholder in video-streaming network PPTV after acquiring 44 percent for $250 million. It acquired Hong Kong-based electronics retailer Citicall Retail Management Ltd and Japanese duty-free product supplier Laox Co in 2009. The latter has now grown into Japan's biggest duty-free product supplier, which saw profits soar 550 percent last year.