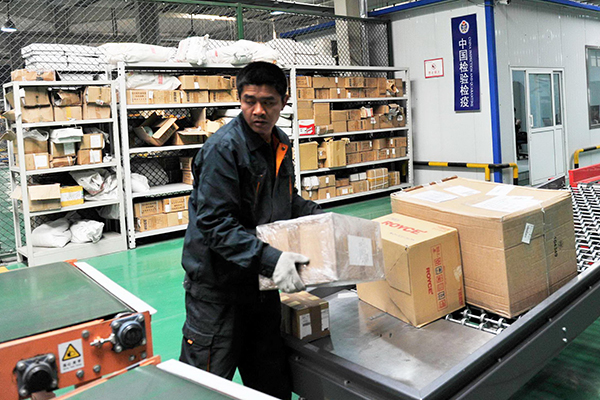 A post office worker sorts cross-border e-commerce parcels that have passed customs and quarantine checks in Jinan, capital of Shandong province. [Photo/China Daily]
I often receive short messages from Tmall.com's online retailers these days, which say "grasp the last chance to click for more cross-border purchases at the current price until April 8 when a new tax system on cross-border e-commerce sales will become effective".
The new taxation policy, announced by the Ministry of Finance, the General Administration of Customs and the State Administration of Taxation last week, led to a heated debate in my office. Some of my colleagues said they hadn't made any cross-border purchases because many online retailers were neither honest nor offered good post-sales services.
Many customers have shared their poor experiences on the Internet on how they were cheated by cross-border retailers.
However, I don't believe retailers will cheat customers every time. How then could the country's cross-border e-commerce and overseas consumption have reached hundreds of billions of yuan a year?
I am quite unique in the eyes of some of my colleagues as I told them I had done cross-border shopping many times and seldom had an unpleasant experience. My experience is to make sure you are very familiar with the brands, prices and packaging of the products that you want to buy online, and don't forget to refer to other shoppers' comments.
In fact, I am among the hundreds of millions of Chinese consumers who often click for cross-border shopping.
I confess I will be quite annoyed if I have to pay much more for cross-border shopping on platforms as Tmall or JD because of the new taxation policy.
A major reason that makes me keep doing cross-border shopping is that it is economical to buy dietary supplements from online cross-border retailers. The online price of a bottle of Nature's Bounty Calcium softgels, which is branded and made in the United States, is 50 yuan ($7.6) to 100 yuan cheaper than that in bricks-and-mortar stores on average.
According to China's current taxation system on personal postal articles, goods with taxes under 50 yuan are exempt from customs duties.
China now levies personal postal articles tax on imported goods, which are under 1,000 yuan, and the tax rate is generally 10 percent. So, in this case if I did a cross-border purchase of Nature's Bounty's calcium and fish oil products at a total price of 499 yuan on Tmall, the tax would be only 49.9 yuan so that I can enjoy duty-free treatment, according to the current tax policy.
This is why the cross-border e-commerce is quite popular compared with offline imports, as the tax burden level is relatively low.