Lenders face increased 'risks from slowing economy, rising NPLs'
Bank of China Ltd, the country's fourth-largest commercial lender by assets, posted 0.74 percent growth in net profit attributable to shareholders of the parent company in 2015 on Wednesday.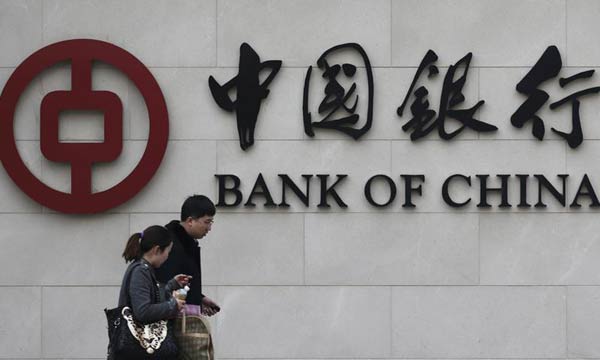 Pedestrians walk past a Bank of China sign at its branch in Beijing, March 26, 2013. [Photo/Agencies]
Chen Siqing, president of BOC, said: "Commercial banks have reached the end of the era when they had double-digit profit growth and have entered the age of single-digit growth.
"But this is quite normal as banks are facing pressure from slowing economic growth and increasing risks. At the same time, they have to shoulder the responsibility to support the real economy by lowering interest rates."
The bank's net interest margin fell 13 basis points year-on-year to 2.12 percent in 2015, which was in part caused by the lowering of interest rates five times last year by the People's Bank of China. Chen said he expected the bank's NIM to drop further in 2016, but the decrease will be smaller.
"Our profit growth will remain stable this year and will hopefully remain at last year's level," he said.
In order to achieve that goal, BOC will try to increase profits from its overseas operations, increase its intermediary business income, and expand its personal finance and global financial market businesses, gain more profits from resolving of nonperforming loans, and more tightly control its expenses.
He said the bank will seize opportunities as China is moving forward with the implementation of major national development strategies.
It will adapt to the trend of the yuan's internationalization by increasing its efforts in business and product innovation, accelerate the construction of a financial pipeline along the routes of the Belt and Road Initiative, and insist on the parallel development of Internet finance, as well as the networking of financial services, he said.
Other large commercial lenders that announced their annual results saw the same trend of flat profit growth. Industrial and Commercial Bank of China Ltd posted 0.48 percent growth in net profit attributable to shareholders of the parent company, while the figure for Bank of Communications Co Ltd was 1.03 percent.
China Merchants Securities said: "BOC has proved to be more resilient than its peers amid the current operating environment thanks to its larger overseas exposure."
The bank's overseas assets accounted for 27 percent of the total last year, and its overseas pretax profit accounted for 23.64 percent of its entire pre-tax profit.
Commercial banks' bad loans saw double-digit growth last year. BOC's outstanding nonperforming loans grew by 30 percent to 130.9 billion yuan ($20 billion), and its NPL ratio increased by 25 basis points to 1.43 percent.