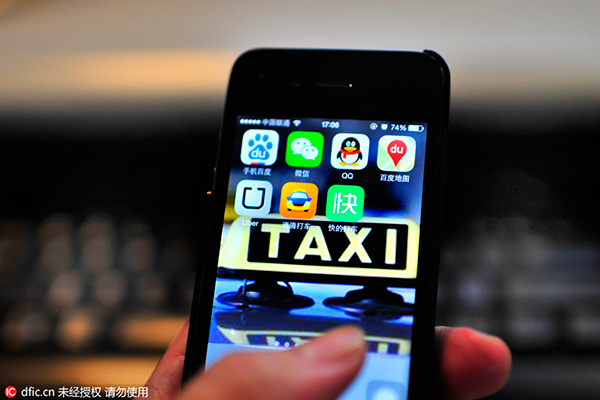 A Chinese mobile phone user looks at icons of ride-hailing apps on his smartphone in Guangzhou city, South China's Guangdong province, April 9, 2015.
Transportation authorities in Shenzhen, Guangdong province, will shut down online ride-hailing services for hundreds of independent drivers after they were found to have had previous "illegal behaviors".
According to the Shenzhen Transportation Commission, 1,425 drivers were found to have taken drugs and another 1,661 had "serious" criminal records before they worked with online ride-hailing companies.
"Such previous illegal behavior poses a threat to passenger safety," said Yu Li, an official with the commission.
The commission, together with public security and traffic security and Internet supervision authorities, summoned five local online car-hailing service providers on Tuesday, asking them to run their businesses in accordance with laws and regulations.
According to the commission, some drivers had mental illnesses and some did not have driver's licenses.
"We will close the car-hailing operations for these drivers with previous illegal activities to protect passengers' rights and safety," said Yu.
Moreover, a growing number of online car-hailing vehicles have been found to have violated traffic rules, with more than 756,000 such cases discovered in Shenzhen last year, according to the commission.
The commission will also stop car-hailing services for more than 300,000 private vehicles, which are operating without Shenzhen license plates.
The latest move was part of efforts by the local government to regulate the booming mobile ride-hailing services.
The popular car-hailing services have triggered anger from local taxi drivers, who asked the local government to protect their rights.
In January, taxi drivers in Shenzhen began a strike to protest the online ride-hailing services, with some expressing anger that car-hailing applications had allowed independent drivers to steal their work and livelihoods without those drivers having to pay commission fees.
In response, the local transportation authority said taxi reform is on the agenda, and it called on taxi companies to reduce commission fees, which have long been charged to drivers.
China's online car-hailing sector has seen a rapid growth since last year, with companies that provide the service pledging to expand their businesses in the country.
Early this month, several ministries vowed to support the popular services as part of the country's drive to encourage green consumption, sending a positive signal that ride-sharing operators in China will gain legitimacy and see further growth in the years ahead.