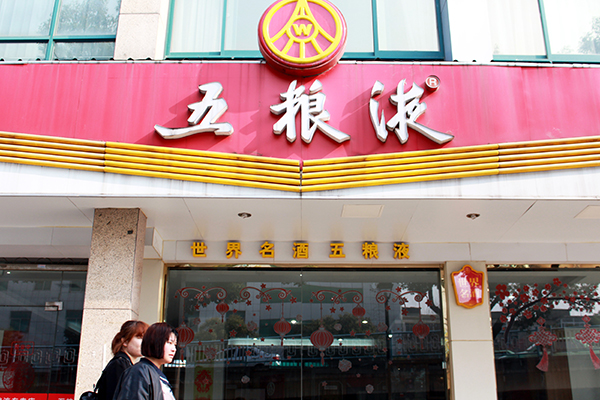 People walk past a Wuliangye liquor store in Nanjing, Jiangsu province. [Photo/China Daily]
Zhang Jindong, the chairman and founder of Suning Holdings Group Ltd, said a new collaboration agreement with liquor brand Wuliangye Group Co Ltd will help ensure fewer counterfeit goods enter the marketplace, as well as cut transport costs for both firms.
Speaking at the official signing ceremony for the deal, Zhang said the tie-up will also help bolster the further development of Wuliangye's e-commerce distribution channels.
Under the agreement, China's largest electronic home appliance-turned-Internet retailer will be able to collect products directly from Wuliangye's factories and warehouses, and transport them to its own distribution centers, thus reducing the need for any middlemen, said Zhang.
Shipping goods direct from Wuliangye to its customers in this way, especially those in remote areas of the country, will reduce the risk of counterfeits, as well as cut costs, he said.
Wuliangye will also be given better representation in Suning's more than 2,000 stores, and a new Wuliangye store has already been opened on suning.com, which offers customers a range of tailor-made Wuliangye products developed exclusively for the retailer.
Zhang said Suning will also allow the liquor producer access to its huge big data resources to allow it to better understand the shopping habits of millions of Chinese consumers, which will help improve and adjust its portfolio, and improve the efficiency of its supply chain.
Liu Zhongguo, chairman of Wuliangye, said the agreement provides the group with another growth point, which will allow it to develop more new products, as well as promote its existing product lines.
Wuliangye had revenue of more than 6 billion yuan ($924 million) last year, and is hoping that will top 10 billion yuan, said Liu, without giving a specific timeline for that.
Key to achieving that, said Liu, is to revamp and better organize its 500-strong network of stores.
Xiao Zhuqing, an independent liquor industry expert, said the country's spirits market is becoming polarizing, with leading brands such as Kweichow Moutai and Wuliangye enjoying strong, continuous growth while medium brands continue to struggle.
Liang Mingxuan, a food researcher from Shenzhen-based CI Consulting, said the liquor industry is expecting a recovery this year after a reshuffle in recent years thanks to the anti-extravagance campaign. E-commerce platforms such as Suning has offered liquor producers an unconventional distribution channels that are not restricted by regions, where traditional retailers have a power balance issues with liquor makers.