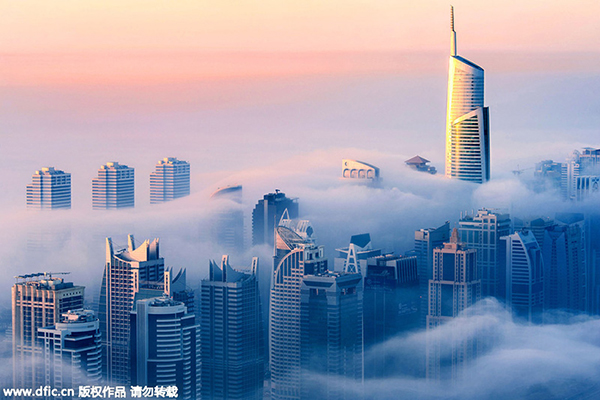 A stunning image of fog over Dubai, March 18, 2013. [Photo/IC]
DUBAI - Dubai's crown prince announced Tuesday that China preserved its place as Dubai's leading trade partner in 2015 with $47.95 billion in commerce, United Arab Emirates (UAE) state news agency WAM reported.
India came second with $135.15 billion, followed by the United States with $22.34 billion.
Saudi Arabia also preserved its place as the top Arab partner and fourth global partner with $15.53 billion, whereas Germany came fifth with $12.53 billion.
The UAE's non-oil foreign trade stood at $349.6 billion in 2015, down 3.6 percent from $362.67 billion a year earlier.
Out of the non-oil foreign trade, $216.9 billion were imports, while $36 billion were exports, and $96.73 billion were re-exports.
Sheikh Sheikh Hamdan bin Mohammed bin Rashid Al Maktoum, Crown Prince of the emirate of Dubai, stressed that Dubai and the UAE's economic diversification strategy achieved its objective, demonstrating the country's economic resilience and its ability to adapt to international market fluctuations.
Oil makes up 29 percent of the UAE's local economy and in September 2015, the UAE's Ministry of Economy and Foreign Trade said it planed to reduce this value to 19 percent in the coming 10 years.
Ninety percent of the UAE's oil reserves are located in Abu Dhabi, the largest sheikhdom and capital city of the Arab state.
Dubai's crown prince said the trade sector continues to perform competently, significantly contributing to the country's economic growth.