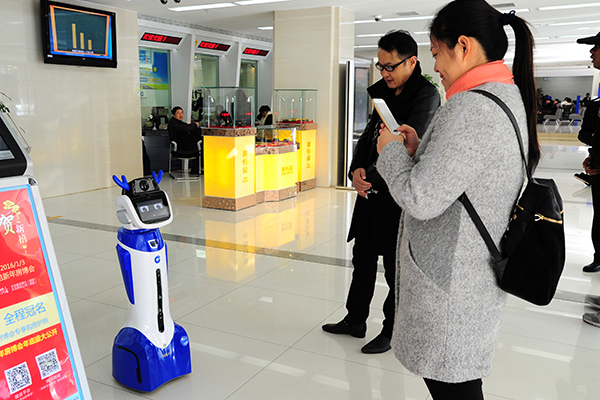 A robot in a bank in Taicang, Jiangsu province, attracts customers' attention. To survive fierce competition, many lenders have opted to upgrade their services. [Photo/China Daily]
Two mainland banks made a lackluster debut on the Hong Kong Stock Exchange on Wednesday amid concerns over declining margins and increasing bad loans.
Share prices were unchanged for both China Zheshang Bank Co and Bank of Tianjin Co on a day the benchmark Hang Seng Index rallied 2.15 percent, or 437.09 points, to close at 20,803.39.
Investors have been cool to mainland lenders lately.
Kicking off share sales earlier this month, Zheshang Bank and Bank of Tianjin set their offer at HK$3.96 (51 cents) and HK$7.39 per share, respectively.
While both banks saw their international offerings less than 10 percent oversubscribed-mainly by their cornerstone investors-Hong Kong investors showed little interest in the IPOs. Zheshang Bank only managed to sell less than one-third, or 30.85 percent, of its planned 300 million shares in the Hong Kong market, whereas the smaller Bank of Tianjin sold only 6.4 percent of its planned proportion of 90.5 million shares in Hong Kong.
The Hong Kong exchange, once the first choice for share floating for mainland lenders, has lost appetite since the end of 2015.
On Dec 3, Bank of Qingdao Co floated shares at the minimum price limit of HK$4.75 apiece. Bank of Jinzhou listed on Dec 8 at HK$4.66 apiece. Its 120 million shares offered to Hong Kong investors was only 4.4 percent subscribed, the worst record among mainland lenders seeking listing in the city.
"Compared with the major State-owned banks, these city commercial banks are not cheap," said Jason Chan, manager of the research department at Bright Smart Securities Co in Hong Kong.
"Their profitability seems to be fine now, but the major concern is bad loans. As the central bank is expected to cut interest rates, profit margins of mainland banks are going to be squeezed further this year. And smaller banks are on the forefront when bad loans pick up amid the decelerating economic growth."
According to the China Banking Regulatory Commission, the nonperforming loan ratio of the country's banking sector stood at 1.67 percent at the end of 2015, rising for 11 consecutive quarters since 0.96 percent in mid-2013. The net interest margin of Chinese lenders was 2.54 percent at the end of 2015, compared with 2.7 percent a year earlier.