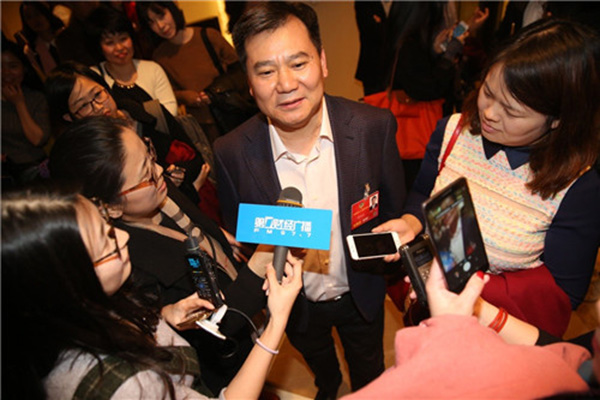 Zhang Jindong, chairman of Suning Holdings Group Ltd, meets reporters on the sidelines of the annual session of the Chinese People's Political Consultative Conference in Beijing. [Photo provided to China Daily]
Zhang Jindong, the founder and chairman of Suning Holdings Group Ltd, China's largest electronics retailer, is calling 2016 a "year of opportunities" for firms in the sector as the country's shift toward more domestic consumption continues to drive the economy.
"Despite the downward pressure, I don't think 2016 will be an economic winter as cold as many expect," Zhang said in Beijing Thursday night, on the sidelines of the ongoing annual session of the Chinese People's Political Consultative Conference, the top political advisory body.
Zhang said he expected the purchasing power of Chinese to continue growing after consumption contributed 66.4 percent of China's GDP growth last year, quoting the latest data from the Ministry of Commerce, up 15.4 percentage points year-on-year.
"That trend will continue and is encouraging news for companies in the consumption and service sectors-this is a year of opportunities," he said.
A member of the National Committee of the CPPCC, Zhang said to really tap into domestic consumption, more steps are still needed to boost development of an online-to-offline shopping model for cross-border e-commerce.
"The government should allow enterprises to set up bonded warehouses in their physical stores," Zhang said, which could allow consumers to window shop online, and then try out and collect the products there.
Bonded warehouses are areas where goods can be stored without the payment of customs duty.
The expansion of such facilities, he said, which could do away with the delivery process, would also allow buyers to return products far quicker if they are unsatisfied with what they found.
Suning set up its cross-border e-tailing business in 2014, and it has expanded fast, with supply chains now set up into the United States, Australia, Europe and other destinations popular with Chinese consumers.
E-commerce giant Alibaba Group Holding Ltd and its arch-rival JD.com Inc, as well as a string of startups, are also searching opportunities on cross-border e-commerce.
"Cross-border e-commerce allows domestic consumers to enjoy the same food and services, for instance, as those overseas and helps our enterprises grow by building spending levels at home," Zhang said.
Chinese people made more than 120 million outbound trips last year, an annual 12 percent rise, and they spent $104.5 billion, according to the China National Tourism Administration.
Gao Hucheng, minister of commerce, said in February that one of the ministry's priorities in 2016 is to promote cross-border e-commerce, which grew by more than 30 percent last year.