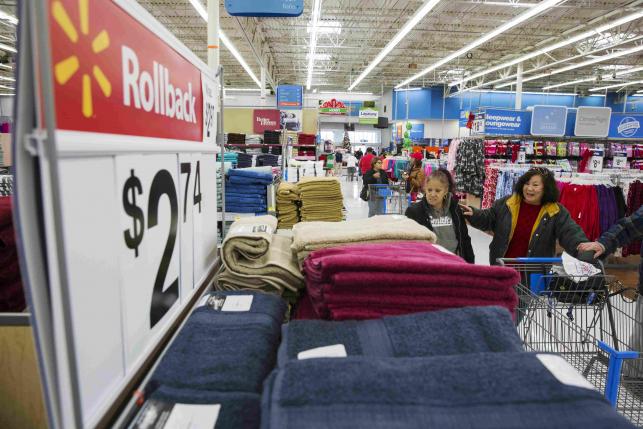 Shoppers look at towels while walking through a Walmart store in Secaucus, New Jersey, Nov 11, 2015. [Photo/Agencies]
Wal-Mart Stores Inc has said that it would pull the plug on its smallest store format, Walmart Express, and close 269 locations as it contends with higher costs in its home market of the United States and disappointing results overseas.
The move includes Wal-Mart's largest-ever single culling in the United States, where the company is closing 154 stores. The other 115 stores are in Latin America, including 60 in Brazil.
The world's largest retailer said it hoped to transfer many of the 10,000 US and 6,000 Latin American workers in the closed stores to other locations.
Wal-Mart's earnings have been under pressure due to last year's decision to raise entry-level wages as well as higher investments aimed at closing the gap online with Amazon.com Inc. At the same time, Wal-Mart is struggling overseas, where a strong US dollar reduces the value of local sales.
The closings come three months after Chief Executive Officer Doug McMillon disclosed plans to review global operations and shut underperforming stores. Friday's announcement marks the first step in that restructuring effort.
Wal-Mart said the closures represented less than 1 percent of its global revenue. The biggest cuts are in the United States, including all 102 Walmart Express stores.
At 12,000 to 15,000 square feet, Express stores are less than one-tenth the size of a typical Walmart Supercenter. The format had been in pilot since 2011 but did not deliver the desired results.
Moody's retail analyst Charlie O'Shea described the closures as a long-overdue "pruning."
"I've always wondered why it's taken so long to cull the US store base because they really haven't done much of it over the past several years," O'Shea said.
Wal-Mart said the move would reduce earnings by 20 cents to 22 cents a diluted share, with nearly all of that to be booked in the fourth quarter ending this month. In November, it forecast a full-year profit of $4.50 to $4.65.
The company's shares fell 2.6 percent to $61.39.
The other 52 US stores to be closed are a mixture of Supercenters, Wal-Mart's largest format; discount stores; Neighborhood Market groceries; and outlets in the company's Sam's Club bulk-selling wholesale chain.