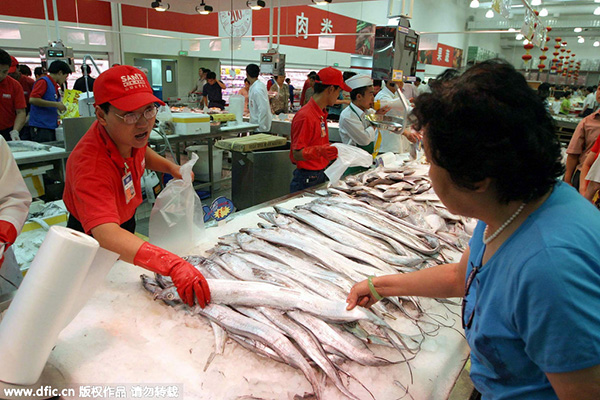 A clerk helps a customer at the fish counter at the Sam's Club outlet on the far western edge of Beijing, China. [Photo / IC]
Sam's Club, the premium and membership retail format of the world largest retailer Wal-Mart Stores Inc, joined forces in November with its sister company Yihaodian, one of China's leading e-commerce platforms for fast-moving consumer goods.
Earlier this year, Wal-Mart also launched its smartphone application Express Buy to take advantage of the O2O boom, as well as taking control of Yihaodian.
French retailer Carrefour SA is expanding its e-commerce business. In June, the French retailer launched its online shopping mall which offers products from its three stores in Shanghai, with delivery to customers 24 hours after the order is placed.
While maintaining investment and diversifying their offline formats, the retailers are venturing into e-commerce.
The newly launched online platform Feiniu under RT-Mart plans to move to national distribution to serve its 3 million registered users. Feiniu has already achieved between 13,000 and 15,000 daily orders, with average spending of 160 yuan ($24) to 180 yuan each.
Hypermarkets in China have struggled to grow as overall retail sales growth weakened, according to Kantar World panel, the global leader in consumer panel insights. It reported a mere 5.1 percent value growth in 2014, 3.5 percentage points lower than the previous year. Mean-while, the top 10 retailer groups grew only 3.2 percent, while the top five grew 1.7 percent.
Kantar Worldpanel's business growth model revealed three key levers to obtain growth for retailers: number of shoppers, frequency and basket size.
Jason Yu, general manager of Kantar Worldpanel China, said closing poorly performing stores in big cities while investing in smaller cities as competition becomes more intense and rental, utility and labor cost rise continuously. Large retailers have started to adjust their strategies and focus on smaller cities.