Editor's note: Online marketplaces offer rich prospects for vendors across China. About half of the country's 668 million netizens make purchases via e-commerce platforms, creating the world's largest virtual shopping market. E-commerce is expected to play a bigger role as China transforms its economy to be more consumption-driven. To maintain strong growth, companies have made efforts this year in nascent markets, such as cross-border e-commerce, tapping into rural markets and teaming up with bricks-and-mortar stores to provide smooth online-to-offline shopping services via mobile devices.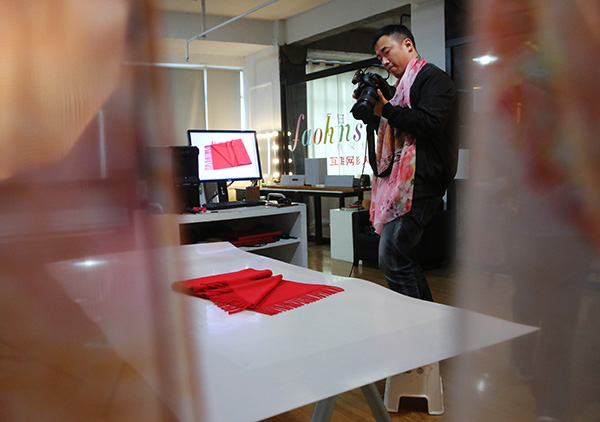 A photographer takes a picture of a scarf for an online promotion in Wuzhen, Zhejiang province. [GENG FEIFEI/CHINA DAILY]
Alibaba bets on big spending power of middle-income group in coming 15 years
Jiang Meifeng stayed up late on the eve of Nov 11, China's largest online shopping festival, trying to snap up some goods in the 24-hour event during which retailers often offer cut-to-the-bone discounts.
"I bought a Lenovo desktop computer at 2,799 yuan ($430) on Tmall-a business-to-consumer platform of e-commerce giant Alibaba Group Holding Ltd-on Nov 11, which was 700 yuan cheaper than its original price," she said.
Bargain-hunting Jiang is one of the hundreds of millions online shoppers in China. They are what has driven China's online shopping market to become the largest in the world.
However, to further boost online consumption in China, people such as 57-year-old Jiang are no longer seen as the most sought-after group of customers by China's major e-commerce players.
Jack Ma, executive chairman of Alibaba, said that he is betting on the buying power of China's middle-income group in the coming 15 years.
"China has a middle-income group of 300 million people. We believe there will be 500 million within the next 15 years, which would bring a huge demand for high-quality products, thus boosting economic growth," he said, adding that consumers will continue to expect cheap and economical products on the Nov 11 online shopping festival.
"But since last year, we've seen more retailers start to compete on value rather than price, and they know that they need to offer innovative and high-quality products to meet the demands of the increasing choosy consumers on Nov 11, otherwise they will be out of business," he said.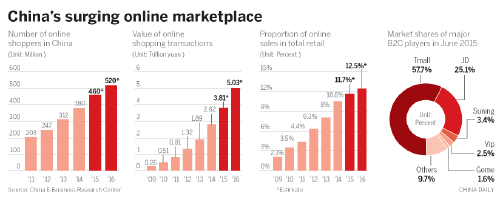 Apart from traditional sales made by Chinese domestic vendors, Alibaba invited more than 5,000 overseas brands from 25 countries and regions to join this year's online shopping festival in an effort to meet the growing demand for high-quality imported products.
The Hangzhou-based e-commerce giant did not reveal how much its cross-border shopping business contributed to its jaw-dropping 91.2 billion yuan in transactions during the Nov 11 sales bonanza this year, but said the sales of overseas products on its Tmall Global site on that day exceeded the total annual sales on some of its competitors' platforms.
Despite the seemingly fantastic sales on Nov 11, Lu Zhenwang, an analyst with Shanghai Wangqing Consultancy, said Alibaba's overall performance in e-commerce has not been good this year, and 2016 could be a challenge too, as the economy slows.
"What's more, the number of Chinese online shoppers may have already peaked, so it is critical for Alibaba to expand its customer base by offering more overseas products and tapping into the upgrading of Chinese purchasing power," he said.
Alibaba is not the only online retailer seeing a slowing growth momentum in e-commerce. Statistics from the Hangzhou-based China e-Business Research Center showed that the annual growth rate of the country's online shopping market is estimated to drop from 50 percent year-on-year in 2014 to 35 percent this year.
According to the center, transactions in China's online shopping market are expected to reach $595.27 billion in 2015.
To battle with the slowdown of the overall e-commerce market, an increasing number of online retailers are vying for the rapidly growing cross-border e-commerce sector in order to drive further growth.