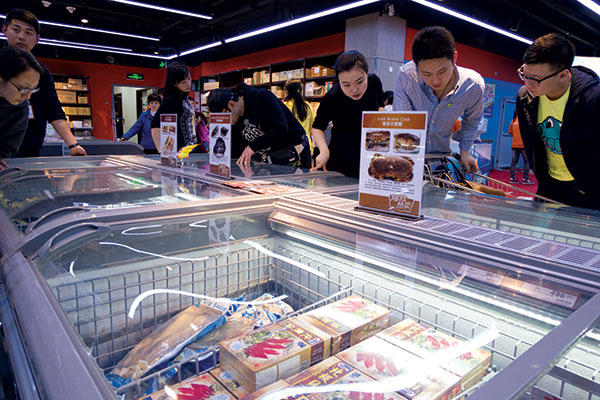 From bricks-and-mortar stores to online shopping platforms, imported foods are enjoying unprecedented popularity among Chinese consumers. [Photo/China Daily]
Foreign retail giants are rushing to have their imported food products listed on china's leading e-commerce sites
At a sleek kitchenware store in Shanghai, Chinese celebrity chef Li Qiang is giving the audience a demonstration on how to prepare a perfectly deep-fried Mandarin fish that is slathered with a rich sweet and sour sauce.
The star of the show isn't the chef himself, nor is the squirrel-shaped fish that is famous in east China.
Rather, the limelight is on the most innocuous of ingredients-the canola oil.
Organized by the Canadian Canola Oil Council, the event was aimed at educating Chinese consumers about the health benefits of cooking with this type of oil.
Created using the seeds of a variety of rape plants, canola oil is touted to contain low saturated fat, a good mix of essential vitamins and high omega-3 fat, an anti-inflammatory substance that is beneficial for the heart.
A survey conducted by the council showed that only 30 percent of residents in major cities like Beijing and Shanghai know about canola oil, and it aims to double this percentage within the next three years by tapping into consumers' growing aspirations to lead a healthy lifestyle.
"There is a general pursuit of healthy diets in almost every country and it is no different here as the Chinese are getting more concerned and aware of what they consume in the kitchen," said Bruce Jowett, vice-president of Canola Oil Council's market development division.
Canada currently accounts for more than half of world's production and trade in canola seed, meal and oil, while the United States is the primary importer of the oil, followed by Japan, Mexico and China.
The timing of the event looked to have been chosen to capitalize on the Nov 11 Singles Day. The occasion is not a holiday but rather an online retail extravaganza that was created by China's e-commerce giant Alibaba Group Holding Ltd.
Xiang Jianjun, a food industry analyst with China Investment Consulting, noted that although the Chinese economy is suffering from a slowdown, imported food is enjoying a steady annual growth rate of 15 percent in terms of retail sales in recent years.
"Imported is the buzzword these days. It has become synonymous with safety, health, and nutrition," said Xiang.
The latest white paper issued by China's General Administration of Quality Supervision, Inspection and Quarantine showed that despite the upward trend of imported food failing to meet inspection standards, there has been no major food safety problems reported between 2010 and 2014.
The value of imported food has also reached $43 billion in 2014, up 9.6 percent year-on-year, while the total value of Chinese imports experienced an unexpected fall of 0.6 percent.