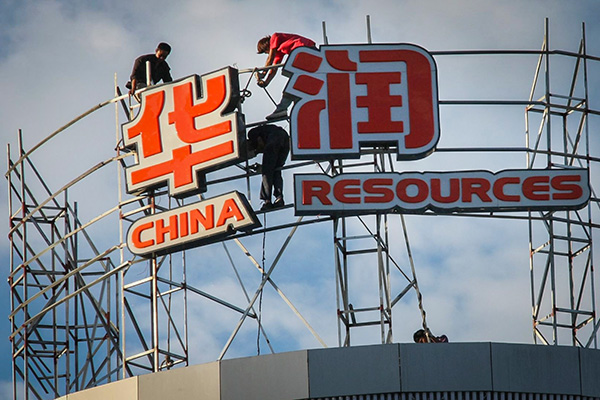 Workers install the logo of China Resources Corp in Nantong, Jiangsu province. [Photo/China Daily]
Transferring interests in 21 outlets will not hit operations and development of US retailer
China Resources SZITIC Trust Co Ltd, a subsidiary of China Resources Corp, is to sell its 35 percent stake in 21 Wal-Mart Stores Inc's outlets in China, worth 3.35 billion yuan ($523.4 million).
"Transfer of the minority interest in our joint venture partner will not affect Wal-Mart's operation and development in China," Wal-Mart China said in a statement.
"Wal-Mart respects the investment decision of its partner in the proposed transfer of its minority interests and creditor's rights in the joint ventures."
As the controlling shareholder in joint-venture companies in charge of the management and daily operation of the stores, Wal-Mart said it would continue to develop business opportunities, and implement stringent corporate governance and internal controls, in compliance with the country's laws and regulations.
Jason Yu, general manager of market research firm Kantar World panel China, said the selling of the stake by the investment branch of China Resources makes clear that the move is largely an investment decision.
He said potentially the proceeds could help fund further development by CRVanguard, the company's retail unit, especially store expansions and e-commerce.
Both Wal-Mart and CRVanguard are experiencing sales slowdowns, as e-commerce competition increases.
According to Kantar figures, CRVanguard claimed a 6.6 percent market share during the second quarter of 2015, slightly behind Sun Art Retail Group Ltd, which leads the China market with 6.9 percent.
CRVanguard's overall growth remains strong, fueled by store expansion and the development of a multi-format portfolio, Yu said.
This is being offset, however, by a weakening of the Tesco-branded operations it runs jointly with Tesco Plc-the United Kingdom's largest retailer which this week announced a 55 percent plunge in half-year profit.
"We expect more Tesco stores to either close or be converted into CRVanguard-branded sites in the coming year," said Yu.
According to the China Shopper Report released in July, the country's hypermarket sector remains weak, with smaller supermarkets, convenience stores and e-commerce channels growing faster.
"We expect that trend to continue," said Yu. "More hypermarket players are actively experimenting with new formats and O2O applications to cater to changes in shopping behavior."
Angela Wang, partner and managing director of The Boston Consulting Group, said it is now time for retailers to reconsider hypermarkets as their key formats.
"Hypermarkets have been on the decline in recent years due to their weakening attraction to consumers in first-tier cities, where shoppers are demanding more convenience and a variety of merchandise from online competitors," said Wang.
She said hypermarkets should now be looking to increase their fresh-food offerings to drive up traffic, offer better displays of their non-fresh-food goods, and improve their supply chains to raise profitability.