By glancing at the wrists of people running on a treadmill, practicing yoga or even walking their dogs, you'll probably see growing numbers of smart bands and watches being worn by the exercisers.
Wearable technology, which provides immediate feedback to people during workouts, includes fitness trackers, smart watches, heart rate monitors and GPS tracking systems.
Data released by Beijing-based consultancy firm iResearch showed that the Chinese wearables market was predicted to hit 11.49 billion yuan ($1.8 billion) by last year and will grow another 47 percent to 16.94 billion yuan by the end of this year.
"85.3 percent of Chinese exercisers are equipped with wearable devices. Smart bands and watches are two of the most common," said iResearch.
Ramon Llamas, research manager of wearables at US market research firm IDC, predicted that smartwatch shipments will jump to 32.2 million units by the end of this year, with compound annual growth for 2015-18 coming in at 42.8 percent.
Apple alone shipped 13 million units of the Apple Watch last year which is a 61.3 percent share of the smartwatch market.
WatchOS 2, the system introduced at Apple Inc's 2015 Worldwide Developers Conference, brings a lot of important new functionality to the Apple Watch. It enables native apps of Apple Watch to run entirely on the watch without relying on the iPhone.
Aimed at bringing better third-party apps and Apple Watch interactions for users, it also allows developers to access the device's built-in heart rate sensor, Taptic Engine, accelerometer, and microphone, and build third-party complications to display information on the watch face.
Let's take a look at applications that received high ratings on the App Store by Apple Watch users.
Gymaholic
Developed by Devenyi Gabor, Gymaholic can track your fitness. By running the app on the watchOS 2, the latest version of Apple Watch software system, users can track their workout without iPhones.
90 percent of users gave a 4 or 5 star rating on App Store ratings.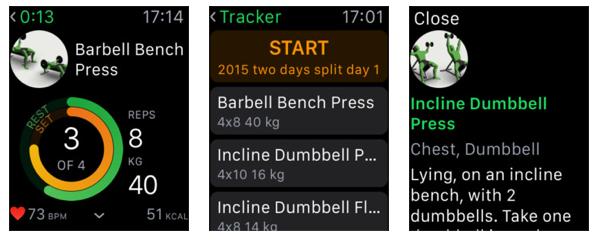 Screenshots showing the user interfaces of Gymaholic are displayed on the Apple Watch. [Photo/chinadaily.com.cn]