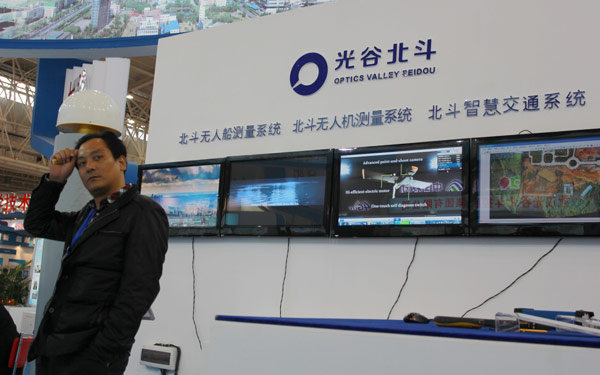 Wuhan Optics Valley Beidou Holding Group Co Ltd's booth at a tech expo in Wuhan, Hubei province. [Photo/China Daily]
A Wuhan-based high-tech company is coasting on China's self-developed Beidou satellite navigation system toward profits.
Wuhan Optics Valley Beidou Holding Group Co Ltd, in Central China's Hubei province, is confident it can grow its overseas presence through export of the Beidou technology.
"Exports accounted for only 30 to 40 percent of our sales in 2015. Our business in Thailand has received government approval. I expect the share of overseas sales to rise to 50 percent in the future," said Du Li, vice-president of Optics Valley Beidou.
The company started tapping overseas markets in 2012, and also helped Thailand, Malaysia, Sri Lanka and some Latin American and European nations to adopt Beidou technology.
"The first step was to establish base stations in these markets. We can develop a number of civilian-use services based on the base station network," Du said.
The company is teaming up with the Thai transportation and fishing authorities to develop high-accuracy location system.
"Satellite positioning usually has a deviation of up to 20 meters. But, with the help of base stations on the land, the accuracy will be increased to less than 1 meter. Higher accuracy spells wider usage for the network," said Du.
Roughly 15 years after China launched the Beidou project, the signal currently covers most parts of the Asia-Pacific region.
It provides real-time navigation information in China and several other Asian countries, including Vietnam, Thailand and Cambodia. By 2020, a constellation of 35 navigation satellites will take shape, with global signal coverage.
Miao Qianjun, secretary-general of the Global Navigation Satellite System and Location-based Services Association of China, said annual turnover of China's satellite navigation market will reach 400 billion yuan ($61 billion) by 2020.
According to the Ministry of Industry and Information Technology, Beidou will be able to provide positioning accuracy of less than 10 meters and a timing accuracy of 20 nanoseconds-a strong challenger to the Global Positioning System or GPS developed by the United States.
"Beidou and GPS will be fighting each other in the next five to 10 years," Du said. "The GPS dominates the global market, but Beidou has been quickly expanding in recent years."
Optics Valley Beidou said it will try to bring down the price of its products and develop more devices for end-users this year. The company is developing apps for disaster warning, shipping, tourism, mining and health care sectors.