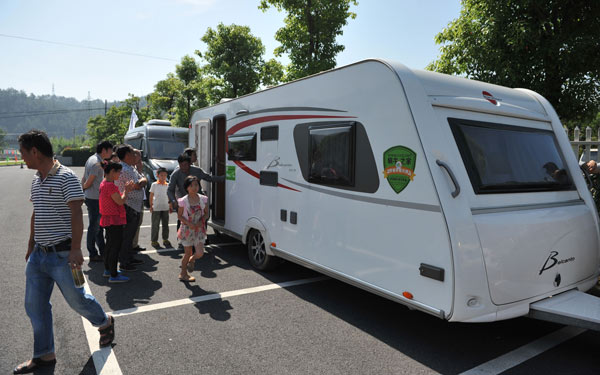 A family get out of their caravan at a scenic spot in Lin'an, Zhejiang province, in June last year. [Photo/China Daily]
A visit to a recreational vehicle expo during a recent tour of Hainan, the tourist resort island in southern China, impressed me with huge numbers of cheerful participating families flocking to experience the personal feel of a "home on wheels".
A survey conducted by the organizer found that 77 percent of the respondents hope to experience RV travel, and a friend of mine who accompanied me to the expo said he was interested in one of the models and may buy one to realize his dream of "traveling around the world" in a RV of his own when he retires next year.
I also noticed a similar enthusiasm among visitors to the numerous RV camping leisure exhibitions held in succession across the country last year. The events attracted nearly all major producers in the world to showcase their latest motorhomes.
Behind this high frequency of exhibitions of RVs is the desire of the government and RV manufacturers to generate greater public interest for RV tourism in China - the world's largest potential RV travel market.
Self-driving tours are becoming increasingly popular in China as people care more about comfort while seeking leisure. Many dream, inspired by some movies, that they could have an RV that serves as a "seaside home".
While RV tourism has been well-established in Western countries for many years, it became available in China only about 10 years ago. There are currently about 20,000 RV owners in China, but most have little experience of traveling in such a vehicle.
21rv.com, a leading website for RV information in China, said that among the country's 140 million car owners, the rate of people who prefer self-drive holiday tours is 15 percent. Based on Western experience, it forecasts that the number of people traveling with RVs in China will reach 11.48 million by 2020.
The China Automobile Industry Association said that by 2020, Chinese people will have 500,000 RVs and the number may even be double that under the most optimistic conditions. And the market value of the RV industry and RV tourism can be counted in billions of yuan.
This rosy outlook seems well founded.
By the end of 2014, China had become the largest car market in the world, and the number of middle-income people is expected to hit 300 million in five years from the current 204 million, according to the latest China Household Finance Survey.
In addition, China boasts 15,000 large-scale national and regional natural and cultural tourist resorts and the number of people who traveled reached 3.3 billion (trips) last year, and 60 million of these visits were made with private cars.
So what are the challenges and factors that may have hindered RV tourism in China?
Prices of vehicles stand top of the list. Most RVs cost more than 400,000 yuan ($62,000), well beyond the reach of most Chinese consumers.
Manufacturers should do something to convince the public that RVs are not only for the wealthy.
A lack of RV camps, renting and trusteeship services are also big obstacles. There are only 80 standard campsites for RVs in China, while the United States has 16,500 and Europe has more than 25,000, according to the China RV Camping Alliance.
More importantly, regulations governing the use of various roads by RVs and driving licenses for RVs need to be clearly defined. And China needs a careful plan for the development of the RV travel industry.
There are also encouraging developments, however.
The government is busy boosting RV camp construction and RV tourism will be a hotspot for investment during the 13th Five-Year Plan (2016-20).
Chinese automobile makers, meanwhile, have started to make RVs at affordable prices.
I can see that ordinary consumers are getting closer to their dream of traveling in a mobile home, and this new lifestyle will create huge demand for RV products and services.