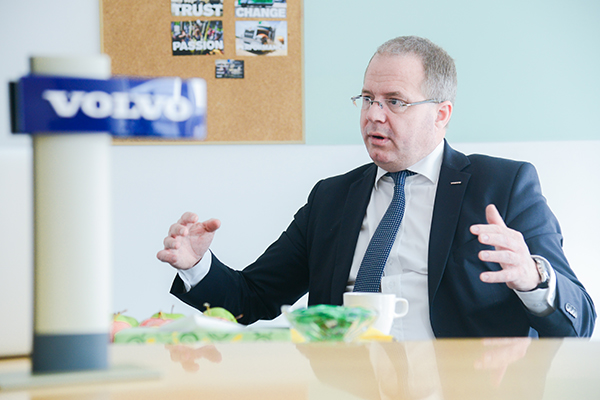 Martin Lundstedt, president and CEO of Volvo Group. [Photo provided to China Daily]
Volvo's chief executive sees 'super opportunity' in China's e-commerce boom for the Swedish automobile conglomerate
Martin Lundstedt, president and CEO of Volvo Group, has been a believer of a fun workplace during his 24-year career in the commercial vehicle industry.
"Think about it. We all have spent so much time on work, so it must be fun. It is not only work. It is the passion about it," Lundstedt said in a recent interview.
With such good spirits, the Swedish executive appears to be unfazed despite the current downward pressure in China's economic growth.
"We've a very thrilling vision about the future, for we are seeing very positive changes."
Lundstedt said the government's growing emphasis on green initiatives, sustainable development and innovation are all bringing great opportunities for the Gothenburg-based company.
In China for more than 20 years, the manufacturer of vehicles, engines and construction equipment now hopes to better tap into the country's booming e-commerce business. The following are edited excerpts from the interview.
What are your business strategies as you readjust to the New Normal in China?
We are adjusting as we go. China is changing from an investment-based economy to a consumption-driven, green-development economy.
Currently, we are adjusting the business for the construction equipment unit. But when it comes to technology and innovation in China, that has not changed.
Also, we are facing a super opportunity brought on by the e-commerce boom, which is fueling the demand for modern logistics. E-commerce will drive the entire transport system forward, setting a high demand for punctuality.
Then China has a very strong agenda on public transportation. Basically, we have three flows in the city-the mobility of people, goods-in and wastes-out. We are now working to use the same solution and infrastructure to move the three flows forward.
Any plan to set up new joint ventures in China?
We are committed to staying and growing in China. Building strong partnerships with our local counterparts is a win-win strategy. Regarding our joint ventures in the transportation and construction equipment areas, we are helping them with our global resources and competitive advantages to achieve success both nationally and internationally.
We already have a strong business presence in China. The current priority will focus more on how to tap the potentials of utilizing our strong alliances with business partners, customers and other stakeholders involved to achieve a resilient development in the Chinese market and contribute to regional development plans, such as the Belt and Road Initiative.
How do you deal with competition in China, given that the local commercial vehicle market has long been dominated by domestic players?
As you said, the segment for heavy-duty and middle-duty vehicles in China so far has been dominated by domestic brands. But the e-commerce boom and increasing commercial flows will completely change the time factor and quality will be more and more important.
As for Volvo trucks, we are not selling on costs or prices. We are selling on solutions and a life-cycle cost, so to speak. As the market is maturing gradually, our possibility to grow will increase. Besides, we have set up a joint venture with Dongfeng Motor Corp in January 2015. Dongfeng Commercial Vehicle is a very strong local player.
What about your green initiatives, along with the growing air pollution concern?
We want to offer the right green solution to China, not only because the government has a strong agenda on air quality but natural harmony is part of China's long history. The philosophical base has always been in the Chinese heritage. That is the reason why we love the country.
Currently, we are working on an electricity project in Gothenburg where the first route for electric buses was opened in June. The electric bus is quiet, does not have any exhaust emissions, and is about 80% more energy efficient than a conventional diesel bus.
But what's more important is about the system. When there is no noise and air pollution, we can have indoor stops and access to Wi-Fi. Buses will no longer be a means of transportation tool. Instead it will become an experience itself.
I believe a developed city is not a city where the poor have a chance to buy a car but the rich are using the public transportation. We want to be part of China's green initiatives and help drive prosperity through transport and infrastructure solutions.
What's your view on self-driving vehicles?
What we have now is the Internet Plus trucks and transport. Volvo Group has almost 500,000 connected vehicles, with very advanced onboard controlling systems, which enable communication between drivers, trucks and buses.
As we go along, that will lead to autonomous vehicles, which I believe will still rely on an advanced onboard system.
We are also working on the Platooning Project, which allows a group of vehicles play "follow the leader" on highways and pass steering, braking and acceleration control to the lead vehicle, so that drivers can relax and do other things. The technology is ready and we are doing a full-scale test on that.
In the foreseeable future, full self-driving vehicles will also be needed in mining places and remote regions where it is difficult to find employees.
But there are issues on safety standards.
What do you think is an effective leadership?
I think Volvo Group is a great company with tremendous assets in terms of brand and people. After joining the group, I have found this organization has deep knowledge about our products and customers.
It's very clear we will increase our focus on customers and contribute to driving our business with higher speed and improved efficiency. We need to trust our people and carry on the work with passion and have fun.
What are your hobbies?
I tend to spend my limited free time with my family, and I enjoy playing music and going sailing along the east coast of southern Sweden to embrace the nature.