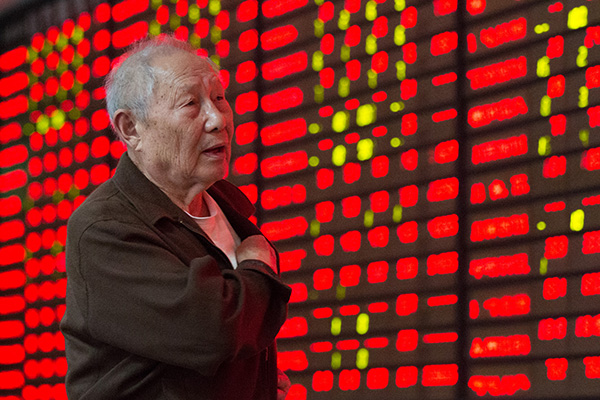 An investor looks at an electronic trading screen at a brokerage in Nanjing, Jiangsu province. [Asinewsphoto by Su Yang]
Chinese stocks are back on the bull market, a surprising achievement after a volatile summer wiped out trillions of dollars in value from mainland equities, reported Wall Street Journal.
The benchmark Shanghai Composite Index has rallied 20.3 percent since Aug 26, the bottom of the summer selloff. Such surge signals a bull market where by definition stocks rise 20 percent from a recent low.
The Shanghai gauge climbed 1.8 percent to close at 3,522.82 on Thursday, bringing its year-to-date gains to 8.9 percent.
The outstanding balance of margin debts at the Shanghai Stock Exchange rose to a two-month high of 648.76 billion yuan ($102.1 billion) as of Thursday, according to the bourse data, but are still down 54 percent from its 1.4 trillion yuan peak in June when the Shanghai index touched on 5178.19.
Investors have gradually returned to the market since the rout, said the newspaper, as trading volumes have rebounded to the highest level since mid-August.
The Shenzhen Composite Index and ChiNext Index, which tracks China's NASDAQ-style board of growth enterprises, have surged 32 percent and 43 percent respectively from their recent lows on Sept 15.
The rebound came as the government launched a spate of policies to prop up the economy and restore market faith. Among which, China cut benchmark interest rates for a sixth time in a year on Oct 23 and unveiled its five-year plan ending 2020.
The country will have to keep its economy growing at no less than 6.5 percent over the next five years to realize the goal of doubling 2010 gross domestic product and per capita income by 2020, President Xi Jinping said, according to Xinhua.
Financial and technology stocks fueled the latest gains after central bank governor Zhou Xiaochuan was reported to have said that China would launch a trading link connecting bourses in Shenzhen and Hong Kong within the year. Brokerages including Huatai Securities and Everbright Securities rallied by the daily limit of 10 percent over the past two days.
The Chinese government has likely spent hundreds of billions of yuan buying shares to stabilize the market since it announced state intervention in early July, said the Journal citing consensus estimate, adding that authorities have held on to stocks since then, if not adding more to their portfolio.
Despite the gains, some investors remain skeptical as lessons were learnt from the rout, while for others, confidence that the government will not soon sell its holdings has encouraged more buying, reported the newspaper.