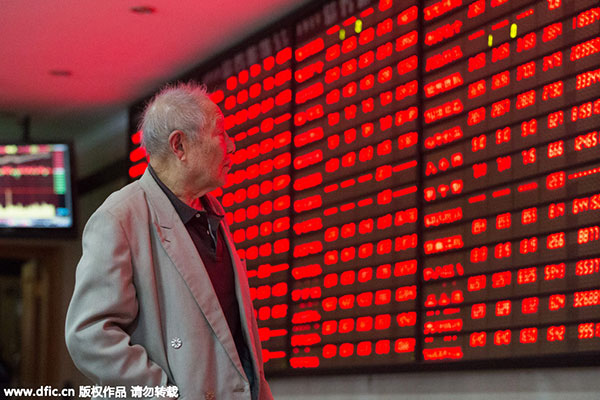 A Chinese investor looks at prices of shares (red for price rising) at a stock brokerage house in Nanjing city, East China's Jiangsu province, Nov 4, 2015. [Photo/IC]
Stocks rallied by the greatest amount in seven weeks on Wednesday, after the government unveiled its five-year plan to boost the economy and the market speculated on the launch of a trading link between Shenzhen and Hong Kong.
Led by financial and technology companies, the benchmark Shanghai Composite Index jumped 4.3 percent to close at 3,459.64, while the Shenzhen Component Index rallied 5.3 percent to 11,884.90.
About 23 brokerages surged unanimously by the daily limit of 10 percent on Wednesday. Nanjing Bank and Ningbo Bank added 7.2 and 6.2 percent respectively.
The industry gauge for insurers advanced 8.5 percent, with the New China Life Insurance and China Life Insurance jumping 10 percent.
The country will have to keep its economy growing at no less than 6.5 percent over the next five years to realize the goal of doubling 2010 gross domestic product and per capita income by 2020, President Xi Jinping said, according to Xinhua.
China will also keep supporting the inclusion of the renminbi in the IMF Special Drawing Right (SDR) basket and push ahead with capital account liberalization and the yuan's internationalization, according to the five-year plan unveiled late Tuesday.
E-commerce and software companies surged on Wednesday, after central bank governor Zhou Xiaochuan was reported to have said that China would launch a trading link connecting bourses in Shenzhen and Hong Kong within the year.
In response to the comment, Hong Kong Exchange announced on Wednesday that it has not yet reached any agreement on the establishment of the Shenzhen-HK Stock Connect.
About 994 billion yuan worth of stocks changed hands at the Shanghai and Shenzhen markets.
The CSI 300 Index closed at 3,628.54, up 4.7 percent.