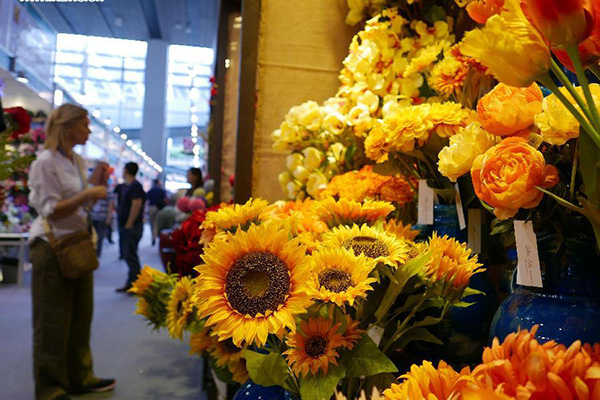 A woman views artificial flowers during the China Import and Export Fair, or the Canton Fair, in Guangzhou, capital of South China's Guangdong province, Oct 26, 2015. [Photo/Xinhua]
An increasing number of Chinese exporters are adopting new means to boost falling sales amid slowing global demand, going by the trend at the autumn session of the biannual Canton Fair, which concluded in Guangzhou, the capital of Guangdong province, on Wednesday.
Exporter focus is shifting to development of cutting-edge technology, brand-building, product quality improvement and better after-sales service, said the organizers of China's largest trade event, which is officially called the China Import and Export Fair.
The growing flexibility "will help boost exports in the long term, and adjust the country's trade structure", said Xu Bing, spokesman for Canton Fair.
The number of overseas participants dropped by 4.6 percent to 177,544 this autumn. Overall business clinched at the fair, too, dropped, by 7.4 percent year-on-year to 171.25 billion yuan ($27.01 billion). "The situation mirrors the country's trade performance, marked by declining exports," said Xu.
According to the General Administration of Customs, China's trade dropped 7.9 percent year-on-year in the first nine months, with exports down by 15 percent.
But domestic companies that boast impressive brands reported Canton Fair deals with overseas buyers worth $8.61 billion, up 6.1 percent year-on-year. Brand-driven deals accounted for 31.9 percent of the total transactions, said Xu.
The Belt and Road Initiative, which was proposed by President Xi Jinping in 2013 to enhance regional connectivity and prosperity along the Silk Road Economic Belt and the 21st Century Maritime Silk Road, had provided huge business opportunities for Chinese exporters, he said.
The number of buyers from countries and regions along the ancient trade routes increased significantly. For instance, the number of buyers from India and Pakistan increased 11.26 percent and 35.25 percent respectively, Xu said.
Chen Yu, CEO of Guangzhou OED Technologies Co Ltd, said the company's advanced technologies in electronic paper display, which mimic the appearance of ordinary ink on paper, would help boost sales in emerging markets in the years ahead.
"We are building a new factory in Chengdu, Sichuan province, to meet the increased demand for electronic paper displays from overseas buyers," said Chen.
The Guangzhou-based company recently signed a cooperation agreement with Russian smartphone maker Yota Devices to provide its technology to the Russian company's next generation of products with double-sided displays.
Guangzhou OED and E Ink Corporation of the US are two companies that are spearheading research, development and manufacture of electronic paper displays.