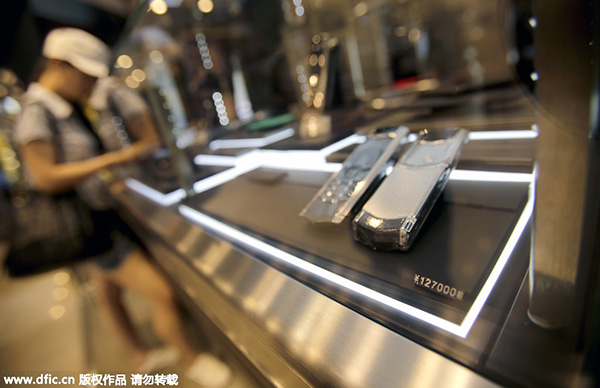 Vertu mobile phones are displayed in a shop in Wuhan, Central China's Hubei province, Aug 9, 2013. [Photo/IC]
The Chinese smartphone family, long known by its average-quality and inexpensive devices, is all set to welcome a new member. Only, the new entrant is a cut above the rest as its major customers are nattily dressed businesspeople who sport customized gadgets handcrafted with sapphire crystal screens and high-end leather.
The United Kingdom-based luxury smartphone vendor Vertu Co Ltd was sold by its Swedish owner EQT Holdings AB to a group of unknown investors in Hong Kong.
EQT said the ownership change was completed in mid-October. Details of the transaction, including the amount, were not disclosed.
Caspar Callerstrom, an investment adviser to an EQT division that handles the Vertu account, said the luxury brand is operationally stronger today with a leading position in the luxury mobile phone market during EQT's tenure.
"Vertu is now ready to take the next step in its development together with a new owner," Caspar said.
The private equity firm acquired Vertu from Nokia in 2012 for more than 200 million euros ($220 million). The phone maker subsequently changed its operating system from Symbian to Google Inc's Android and launched a range of new products.
However, the price of Vertu devices far exceeds the flagship devices sold by Apple Inc or Samsung Electronics Co Ltd.
Prices for a Vertu phone easily reach 50,000 yuan ($7,900) in China, compared to 7,788-yuan price tag for the most expensive model of the iPhone 6S Plus selling in the country. Vertu provides 24-hour worldwide concierge service to its phone users to access "money-can't-buy" events and experiences.
The company runs retail outlets in high-end shopping malls in cities including Beijing and Shanghai. Chinese shoppers' zeal for luxury products has been driving Vertu's expansion.
Vertu, which was originally started by Nokia in 1998, will need to find a new chief executive following the change in ownership.
Massimiliano Pogliani, the company's chief executive for three years, is believed to have stepped down from his post.
It was also not immediately clear as to how the ownership change would affect Vertu's operations. Hong Kong-based investment company Godin Holdings, a key investor in Vertu, did not reply to e-mails sent by China Daily seeking comments.
Vertu's Hong Kong office said the company would issue a statement regarding the ownership and leadership changes on Wednesday. But no statement was made by Wednesday evening.
Hong Kong investors have showed a rare interest in buying overseas smartphone makers lately.
REX Global Entertainment Holdings Ltd, a Hong Kong-listed firm, paid $100 million for 64.9 percent stake in Russian smartphone maker Yota Devices last week.
TZ Wong, a senior analyst at Singapore-based research company Canalys, said Vertu is facing strong headwinds because of its pricing strategy.
"The previous owner chose a good timing to exit as Vertu is facing expansion pressures," he said.
"The company may shift its focus to China and other Asian markets after the takeover."