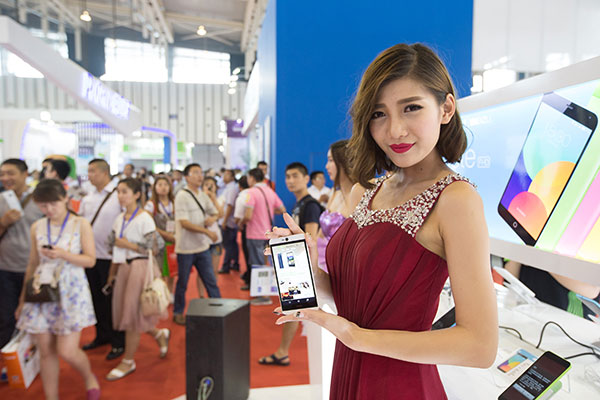 A model shows a smartphone at an expo in Nanjing, capital of Jiangsu province. Local smartphone manufacturers are queuing up to release their latest devices ahead of Apple Inc's long awaited new iPhone launch. [Su Yang/For China Daily]
BEIJING - In a fiercely competitive international mobile phone market, Ni Fei, senior vice president of Nubia Technology, believes Chinese brands muscle in.
"A quality camera is key," said Ni, who claims Nubia produces the first phone that can take a pictures of the passage of stars across the night sky.
The Nubia Institute of Images has developed an algorithm and technology to extend the exposure time of handsets, enabling users to take pictures of stars as clearly as with a DSLR.
In addition to camera functions, Ni said innovation in voice control means smartphones are getting smarter: "Although the iPhone changed the competitive landscape, the really smart smartphone has not appeared yet. Today's so-called smartphones cannot learn and analyze speech."
Beyond cameras and voice interaction, Nubia is pursuing longer battery life and improved screens. Over the past five years, ZTE, Nubia's parent company, has invested over 40 billion yuan ($6.5 billion) in research and development, and 37.5 percent of employees -- 26,000 of them -- work in R&D.
Since even before its birth in 2012, Nubia was conceived as an international brand. Its first product was designed by Italian Stefano Giovannoni and product were held in both Russia and Sweden. ZTE Nubia Z9 handsets were launched in India in May, and the Nubia "My Prague" series was unveiled (unsurprisingly) in Prague, Czech Republic, in July. Nubia phones are on sale in the United States, Russia, India, Czech Republic and Spain among others, through cooperation with Amazon and JD.com Global.
The International Data Corporation (IDC) Worldwide Quarterly Mobile Phone Tracker, expects smartphone shipments to grow in 2015 to 1.44 billion units. China consumed 32.3 percent of all new smartphone in 2014. Shipments are forecast to grow just 1.2 percent in 2015, down from 19.7 percent in 2014. Last year, Nubia has sold five million phones.
Even if growth has slowed, China remains a vast market, but last year, 52 percent of Huawei's smartphone sales revenue came from overseas. Markets in Africa, Asia and Latin America are blossoming.
Another homegrown smartphone maker Xiaomi sold 61.1 million units in 2014, more than one million of them in India.