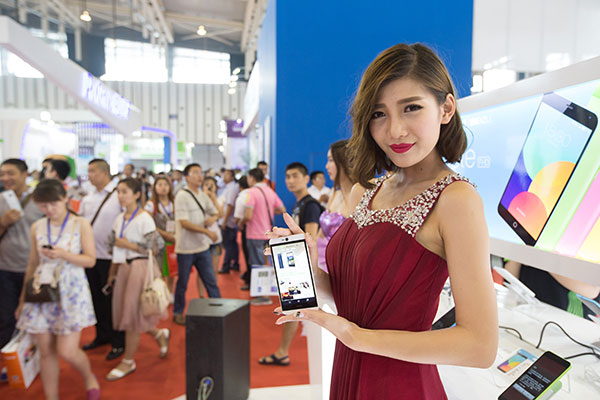 A model shows a smartphone at an expo in Nanjing, capital of Jiangsu province. Local smartphone manufacturers are queuing up to release their latest devices ahead of Apple Inc's long awaited new iPhone launch. [Su Yang / For China Daily]
Firms to unveil slew of models across various price segments
Smartphone makers from China are queuing up to release their latest devices ahead of Apple Inc's long awaited new iPhone launch later this autumn.
Lenovo Group Ltd's third smartphone brand ZUK on Tuesday released its first-generation handset to compete in the sub-2,000 yuan ($317) market. Lei Jun, chief executive of Xiaomi Corp, is also preparing a grand event on Thursday to introduce the company's next flagship model.
Internet tycoon Zhou Hongyi's Qiku phones and English-teacher-turned-entrepreneur Luo Yonghao's Smartizan T2 are others that have lined up product launches.
Chang Cheng, CEO of ZUK, said it was the right time to unveil the Z1, at a price of 1,799 yuan, in the market.
"We planned to launch it a month earlier, but a small design change delayed the release. But it was OK because our phone is the best in the market," Chang said.
The Z1 was Lenovo Group Ltd's latest attempt of reviving its falling smartphone business. The world's biggest personal computer maker is lagging behind Xiaomi, Huawei Technologies Co Ltd and a number of other local brands in terms of shipments after it purchased Motorola Mobility from Google Inc last year.
Lenovo is aiming for smartphone sales of about 100 million this year. Chang, however, did not disclose the sales target for Z1.
After the Z1 release, the smartphone family of Lenovo now has three brands and at least six active product lines. Although company executives said that the Lenovo, Motorola and ZUK brands have different target customers and will not compete directly against each other, it is still confusing for customers and industry experts to spot the differences between the product lines.
Lenovo's 16.2 million second-quarter global shipments also fell short of Xiaomi's 17.9 million units and Huawei's 29.9 million units, according to research company International Data Corporation.
Because of the worse-than-expected performance, the company replaced the head of its mobile unit earlier this year to boost sales.
Wang Jingwen, a smartphone analyst at Canalys China, said the smartphone market remained stagnant in China on a quarter-on-quarter basis with competition among major brands heating up.
For Xiaomi, the numero uno in terms of second quarter shipments, the fight will be extremely difficult as well.
"(Because many players are introducing new devices to the market,) Xiaomi is under immense pressure to maintain its top position in the quarters to come," Wang said.
Xiaomi is releasing a new flagship on Thursday. The technical details and the price of the device have been kept secret by the Beijing-based company. Industry sources aver that it would most likely be a pamphlet model targeting the 3,000-yuan market.