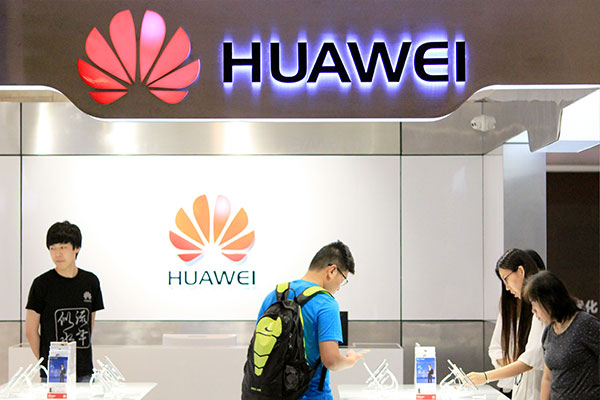 Huawei products at an information industry expo in Nanjing, Jiangsu province. The company beat expectations in handsets shipments in the first half of the year amid intense competition with market leader Xiaomi Corp for the top slot in China. [Photo/China Daily]
Huawei Technologies Co Ltd more than doubled its China smartphone revenue in the first half of 2015, defying a slowdown in the world's biggest handset market that is enveloping rivals Xiaomi Corp and Samsung Electronics Co Ltd.
The fourth-largest smartphone maker missed its global shipment targets for two years, but a focus shift to high-margin premium models pushed January-June worldwide shipments to 48.2 million phones, Huawei said on Wednesday. That puts it on course to move 100 million mobiles this year, 33 percent more than last.
The turnaround comes almost three years after Shenzhen-based Huawei decided to shed its budget appeal and challenge Samsung and Apple Inc at the high-end of the market, where analysts said an increasing number of previously price-conscious Chinese consumers are willing to spend their money.
In contrast to Huawei, overall smartphone shipments in China shrank for the first time in six years in the first quarter, and one-time leader Xiaomi booked its first fall in sequential semi-annual sales, saying the domestic market is nearing saturation. "There's a buzz going around Huawei in China right now and it's being increasingly associated with better product quality," said Bryan Ma, researcher IDC's Asia-Pacific vice-president. "It's quite dramatic how successful they've been."
Behind that success is convincing Chinese consumers that it is worth paying more for its feature-packed yet moderately priced devices, Ma said. Its first-quarter average selling price jumped to $222 from $128 a year earlier, he said.
Huawei booked global handset revenue of $9.09 billion for the first six months, up 69 percent year-on-year, and raised its year-end goal to $20 billion from $16 billion. In China, where it sells most of its mobiles, phone revenue rose 124 percent.
On Monday, head of consumer business Richard Yu in a memo touted the success of Huawei's high-end P8. The handset is priced in China well below premium models from rivals such as Samsung, which fell out of China's top three in the first quarter for the first time since 2011.
"The consumer business group recorded an unexpectedly high rate of growth," Yu wrote without elaborating. Huawei's consumer business division makes electronic goods such as smartphones, smartwatches, tablet computers and modems.
Analysts said Huawei's sales growth may not be down to company strategy alone, and that it may have benefited from pricing or distribution missteps at competitors.
But now Huawei's fast-growing Honor sub-brand has copied Xiaomi's online distribution model, the triple-digit growth rates Xiaomi has enjoyed in China in recent years may be under threat, said Strategy Analytics executive director Neil Mawston.