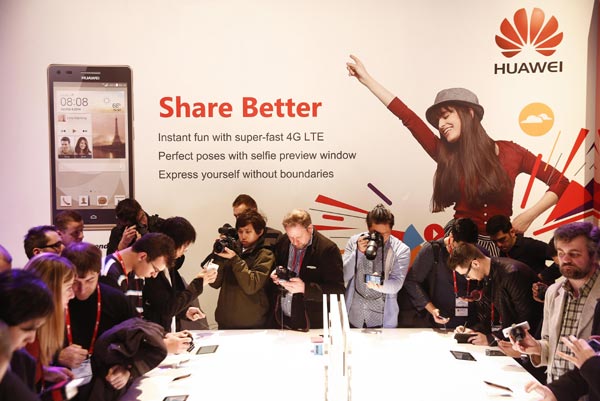 Attendees inspect and photograph the new MediaPad M1 devices during a Huawei Technologies Co Ltd news conference ahead of the Mobile World Congress in Barcelona, Spain, in February.[Photo/Agencies]
CAPE TOWN -- Chinese information and communication technology (ICT) firm Huawei announced Thursday an expansion of its technical training program for Africa, aiming to build ICT capabilities in the continent.
The program dubbed "Seeds for the Future" will enable more than 1,000 students of ICT-related major across Africa to have access to high-level technical training in China in the next 5 years, it was announced during the World Economic Forum on Africa in Cape Town, South Africa.
"Governments in Africa need to develop a vision of boosting connections. They need to invest or facilitate investments into national broadband plans and train technical talents, this will create jobs, boost economic growth and secure Africa's future," said Charles Ding, senior vice president of Huawei.
Globally, Huawei works with governments and universities to send students overseas, providing work experience with the world's best ICT equipment.
To date, over 10,000 students worldwide have benefited from the program, said the company.
Meanwhile, Huawei also announced a job creation plan for its local operation in South Africa.
"As the second largest economy in Africa, South Africa is an important market for Huawei. Currently we have around 1,000 employees in South Africa. In the next 5 years, we will increase the staff in South Africa by 50 percent to support our fast- growing operations," said Steven Wu, the newly appointed CEO for Huawei's South African operation, adding that South Africa's ICT industry is "poised for strong growth."
Huawei sold around 1 million smart-phones in South Africa in 2014, said Wu. The company is planning to double the figure in 2015.