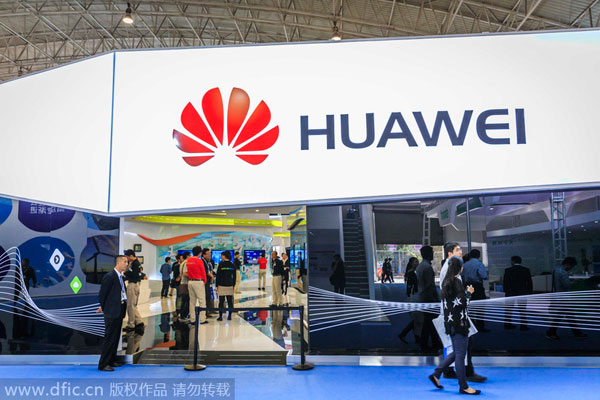 Visitors walk past the stand of Huawei during PT/EXPO COMM CHINA in Beijing, Sept 27, 2014.[Photo/IC]
DAR ES SALAAM - Tanzanian government has chosen Huawei, a leading global information and communications technology (ICT) solutions provider based in China, to be its technical advisor in empowering the East African country's ICT sector.
An agreement was signed at the first Huawei Cloud Conference in Dar es Salaam Thursday, seeing Huawei offering Tanzania services on ICT training, education and big data services.
Speaking at the conference, Tanzania's Minister of Communications, Science and Technology Makame Mbarawa said ICT plays a key role in the development of a nation's economy as through it people are able to do things more efficiently and effectively.
"Tanzania has enjoyed a great relationship with Huawei Tanzania, and have previously partnered with them on many projects successfully. With its innovation in ICT fields, Huawei did a great contribution to Tanzania," said the minister.
He said the signing of the agreement will further deepen technologies transfer between Huawei and Tanzania.
Hosted by Huawei Tanzania and the Ministry of Communication, Science and Technology of Tanzania, the Huawei Cloud Conference brought together players in the ICT sector from the government, governmental agencies and private sector.
The conference outlined how the East African country would achieve its millennium development goals as set out in Vision 2015 by Empowering Tanzania through ICT.
Huawei laid out its strategy to build a better connected Tanzania by improving and promoting ICT knowledge and awareness to the government, academic institutions and the general public, as well as focusing on capacity building, infrastructure, policy and legal framework and public relations activities on ICT.
"In the Big Data era, telecom operators and enterprises from different industries are facing new challenges. Huawei will continue to bring ICT innovations to Tanzania to help our customers achieve business success," said Zhang Yongquan, Managing Director of Huawei Tanzania.
During the conference, Huawei Tanzania also launched its new IT products, the OceanStor V3 and FusionCube, showing Huawei's "Make IT simple, make business agile" strategy of dealing the new challenges faced by its customers.