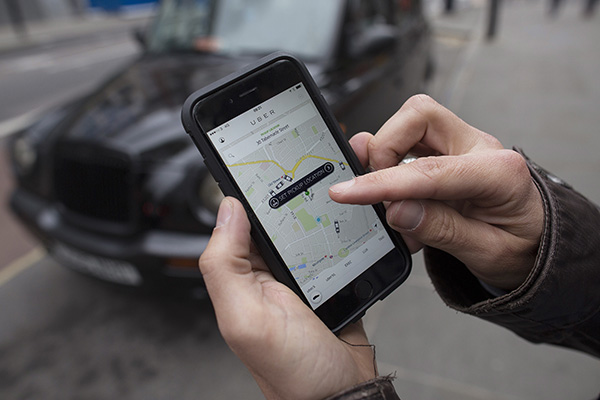 A user scans for an available vehicle using the Uber Technologies Inc's app on an Apple iPhone 6 smartphone. [Photo/Agencies]
Uber, the black cab ride-hailing service, continues to expand exponentially across China and is now reportedly logging a staggering 1 million rides per day. Despite this incredible growth rate, Uber is still only available in just 11 Chinese cities.
But what is most exciting about Uber's mainland growth strategy is the apparent determination to conquer the vast geographical expanse of western China.
A leaked letter recently revealed that Uber Chief Executive Officer Travis Kalmick intends to raise over $1 billion to fuel the expansion of UberChina.
All too few foreign companies and their brands have invested in and expanded across large parts of the mainland market but UberChina appears to be taking a lead. Perhaps UberChina's spectacular rise and aggressive and ambitious all-China expansion strategy has, in part, been driven by its main Chinese competitor, Didi Kuaidi.
Such a combination of entrepreneurial drive and fierce competitive rivalry can only contribute considerably and positively to the Chinese economy.
Uber plans to penetrate more than 50 cities across the Chinese mainland and if current growth rates continue this could materialize far sooner than expected. But, if leaked information is to be believed, it is the geographical spread of these 50 or so target cities that marks Uber's mainland growth strategy as exceptional and most exciting.
Expansion across China, especially the western region, by more Western companies and their brands has for long been seen as essential to kickstart growth in less developed areas.
Uber's lead in expanding across China is all the more timely given the much-needed growth and modernization of China's service sector as low-cost manufacturing declines in importance.
Furthermore, Uber's impressive and aggressive expansion across China can only spur on domestic competition, and not just with Didi Kuaidi.
Chinese product brands, particularly in the technology sector, have made huge strides in recent years but the same cannot be said of the service sector companies and their brands. Uber's recent exponential emergence should provide a timely wake-up call.
In particular, it is Uber's brand strategy from which Chinese service sector players can learn the most. Uber aims to provide an emotional experience and not just a functionally efficient service.
Around the world, Uber's brand strategy is dominated by an effective combination of brand marketing promotions aimed at positioning the Uber brand personality as "vibrant", "fun" and "boyish". Such a brand strategy also distinguishes Uber as almost unique in the transportation sector.
Clearly, Uber's brand-building efforts are central to any sustainable competitive advantage, where until now price differences have dominated consumer choice.
Didi Kuaidi, for example, has not implemented an Uber-like brand marketing campaign, relying instead almost entirely on economic and rational choice criteria such as price and travel time. Rational brands can only succeed in the short term. They are always vulnerable without any emotional associations that build a personality that enriches and differentiates the consumer experience.
As a result, Uber stands as a role model to China's service sector with its aggressive and ambitious expansion plans and, crucially, its emotional brand-building strategy.
The author is a visiting professor at the University of International Business and Economics in Beijing and a senior lecturer on marketing at Southampton Solent University's School of Business. The views do not necessarily reflect those of China Daily.