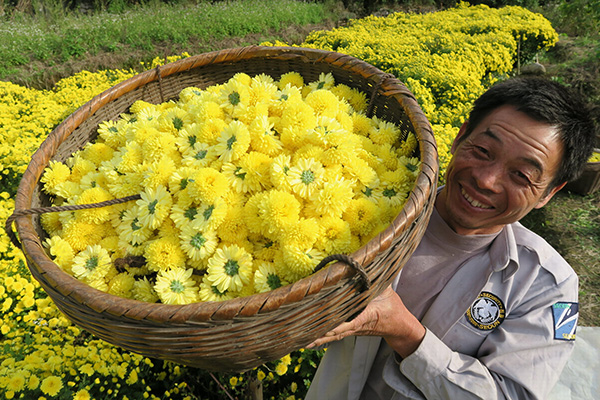 farmer displays fresh chrysanthemums at the Dianziling village, in Quanzhou county, Guangxi Zhuang autonomous region, Nov 2, 2015. [Photo/China Daily]

Highly skilled managers on larger farms seen as key to increased productivity to feed the nation
China is about to enter its second major period of agricultural reform since the 1980s, with the goal of shifting to large farms and "professionalized" farmers who are more productive than those working on a small scale, a high-level central government official said on Wednesday.
The coming 13th Five-Year Plan (2016-20) will start the change, said Chen Xiwen, deputy director of the Central Rural Work Leading Group.
In 30 years, about 85 percent of China's supply of farm products will be provided by 7 percent of its labor force, said Zou Lixing, a research official with China Development Bank.
By comparison, in the United States, virtually the whole country's market of farm products is sustained by only 1.5 percent of its labor force, Zou said.
For the past 2,000 years, small-plot farmers in China have provided the nation with most foods. As of 2014, there are 22 million farm workers in the country, according to government data, although some of them might have actually worked in cities.
To facilitate the change, the coming Five-Year Plan calls for land management rights to be registered and duly protected by law-apart from land ownership rights-so that land can be used more efficiently.
Before the agricultural reforms of the 1980s, farmland and farming operations were concentrated in people's communes.
Chen said the priority in the coming agricultural reform is to improve the system of property rights in rural China, with the necessary step of allowing highly skilled farmers to operate large farms and raise the country's agricultural productivity.
Chen's remark followed proposals for the new Five-Year Plan that emerged from a top-level decision-making meeting last week.
The coming reform will encourage farmers to contract out their land to more productive farm managers in various ways, either individually or in groups.
It will encourage farmers to use their plots to set up joint-stock companies.
Han Jun, deputy director of the office of the Central Rural Work Leading Group, said the policies and incentives promoting large-scale agribusinesses will help attract more highly skilled people to become China's future farm managers.
One of China's challenges now is the aging of its current generation of farmers and the lack of workers to take over their jobs, Han said.
According to the National Bureau of Statistics, more than 45 percent of the country's population lived in rural areas last year, or nearly 600 million people.
Dang Guoying, a specialist in agriculture and rural development at the Chinese Academy of Social Sciences, said the new types of agribusinesses will enjoy economies of scale, delivering much higher output and earning greater profits than the traditional small-plot farmers.
"Professional farm managers equipped with modern technologies and management methods will be the mainstay of the country's agriculture in the future," Dang said.