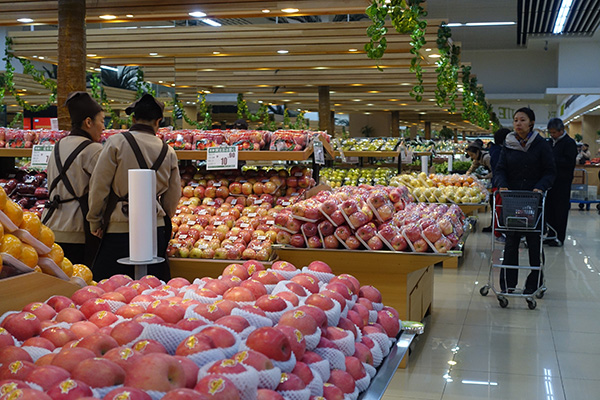 Customers at the World Good Farming grocery store in Wangjing area in Beijing. [Photo/China Daily]
A popular saying is that the way to a man's heart is through his stomach. Well, the same can be said about women, at least for housewives who shop at a high-end grocery store in Beijing.
During the National Day holiday from Oct 1 to 7, I went shopping at the World Good Farming grocery store, also known as Guo Shu Hao in Chinese, in Wangjing area. A saleswoman was holding forth on how to display grapes in a way that would please and attract customers.
"First, you don't stack one bunch of grapes on another as it will put pressure on the delicate fruits and damage them. Second, you have to make sure every piece looks good on the shelf," she told her junior colleagues.
I was impressed by the way fruits and other stuff were displayed in the store.
Beyond looks, even the taste of fruits floored me. No wonder, the store has many loyal customers.
Some of its shop-floor managers are tasked to monitor products on display through the day and remove any fruits and other items that go bad.
To save customers' time, vegetables and fruits are weighed and packed in advance in convenient meal-size portions that sport relevant price tags.
Customers of a typical supermarket would be wary about what might lie under the first layer of wrapped-up products. But at World Good Farming, it looks like every single vegetable and fruit is thoroughly checked before it is put on shelves. I haven't found any worse-than-expected food here so far.
According to the World Good Farming website, the store was founded in 2011. It sources its food from an agricultural production base in Beijing. There is another branch in the same Wangjing area.
Guo Shu Hao could well be China's answer to Whole Foods Market, a leading US-based grocery chain specializing in natural and organic foods.
With an area no more than two basketball courts, Guo Shu Hao sells quality food. A single-purchase could cost 200 yuan (($31.25) to 300 yuan on average, about 30 percent higher than what you pay at ordinary supermarkets.
A fresh food store often generates vegetable waste and unpleasant odors. Its shop floor could also get wet. A clean and tidy environment is key to keeping customer mood cheery.
World Good Farming has a dedicated team to wipe the floor and pick stray vegetable pieces. There is no noise of salespeople screaming into their microphones to promote the day's offers. Instead, you get to hear pop music, including songs of Adele and Katy Perry.