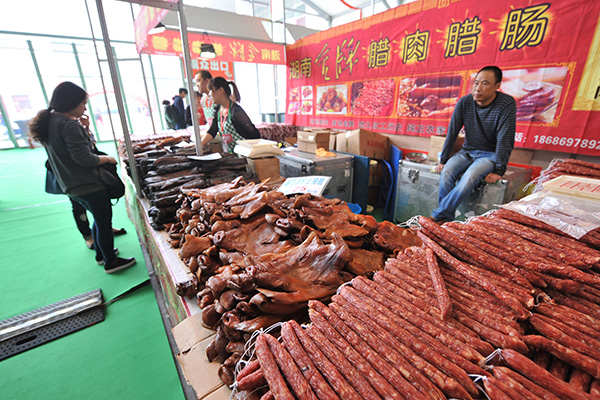 A market for dried meat products in Qingdao, Shandong province. Share prices of chicken feed producers and poultry providers rose on Wednesday on news that bacon, sausages and other processed meats are carcinogenic. [Photo/China Daily]
Market likely to continue to rebound on the back of reforms, economy-boosting measures China's stocks fell on Wednesday, with a late afternoon bout of profit-taking pushing major indexes deep into the red.
"The fall today was propelled by profit-taking after the gains in recent weeks," said Xiao Shijun, an analyst at Guodu Securities in Beijing.
"With a lot of reforms in the pipeline and official economy-boosting steps taken, the market will remain on a rebounding track in the medium term, despite short-term volatility."
The CSI300 Index of the largest listed companies in Shanghai and Shenzhen fell 1.9 percent to 3,524.92 points, while the Shanghai Composite Index lost 1.7 percent to 3,375.20 points.
Among the most active stocks in Shanghai were China Shipbuilding, down 6.2 percent to 11.27 yuan ($1.77), Meiyan Jixiang, down 3.9 percent to 8.49 yuan and Hongxing Steel, up 3.6 percent to 4.36 yuan.
In Shenzhen, among the most actively traded were Tongling NFM, which dropped 7.6 percent to 4.13 yuan and BOE Technology, down 2 percent to 2.99 yuan.
The total volume of A shares traded in Shanghai was 29.3 billion shares, while the Shenzhen volume was 34.1 billion shares.
In Hong Kong, Chinese mainland stocks headed for their biggest loss in a month as investors weighed declining earnings from Tsingtao Brewery Co to Jiangxi Copper Co as UBS Group AG cut its forecast for the nation's growth.
The Hang Seng China Enterprises Index retreated 1.6 percent to 10,540.62 points. Sixty-nine percent of the Shanghai-listed companies that have reported third-quarter results so far have missed analyst estimates, versus 50 percent for the MSCI Emerging Markets Index.
"Earnings are looking pretty bad, particularly of companies in traditional industries," said Wang Zheng, the Shanghai-based chief investment officer at Jingxi Investment Management Co, who is keeping his holdings unchanged.
"There won't be any pickup in earnings through the year, so investors have been focusing on thematic investment on smaller companies."