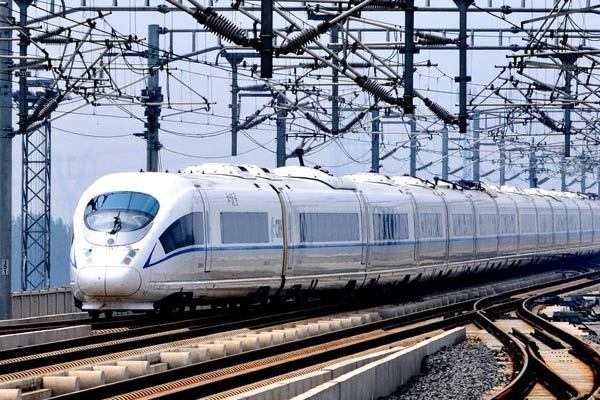 A CRH train that runs on the Beijing-Shanghai High-Speed Railway leaves Tianjin South Railway Station in North China's Tianjin, June 30, 2012. [Photo/Xinhua]
Network to span 18,000 km by end of this year and foster new growth points
Editor's Note: The Communist Party of China Central Committee is meeting this week in Beijing to set the course for the world's second-largest economy over the next five years. China Daily takes a look at the major economic progress achieved during the previous years and key focus areas in 13th Five-Year Plan (2016-20).
China's high-speed railway network is expected to span 18,000 kilometers by the end of this year, building a solid foundation for an industry that can generate new market growth points during the nation's 13th Five-Year Plan period (2016-20).
Official data from China Railway Corp, the country's railway service provider and planner, shows that China will add another 2,000 kilometers of high-speed railroad by the end of this year, the final year of the country's 12th Five-Year Plan period (2011-15).
This is part of the government's plan to put more than 8,000 kilometers of extra lines in both regular and fast-speed railway networks into operation.
The railway construction target was announced by Premier Li Keqiang in the Government Work Report earlier this year. The report also said that by the end of this year, all cities in China with a population of more than half a million will be connected by high-speed railways.
Rong Chaohe, professor at the school of economics and management in Beijing Jiaotong University, said China plans to build more high-speed railroads in the nation's western region during the 13th Five-Year Plan, as well as export more high-end railway equipment products to overseas markets.
Wang Mengshu, an academic at the Chinese Academy of Engineering, said eager to make more breakthroughs in this fast-developing sector, China will continue to deploy more resources and manpower to further develop "smart trains", which apply intelligent technology that will allow trains' speed control, condition determination and fault detection operations to be performed digitally.
China has also set a target for carrying out research and making innovations in the permanent magnetic motor technology for the high-speed train power systems, as most of the existing units run on alternating current.
"Permanent magnetic motors will consume less energy and improve trains' reliability, which is a trend in the research on high-speed trains," said Wang.
The nation aims to form a comprehensive transport network by the end of this year, with four high-speed east-west arteries and four north-south arteries as the backbones. The national high-speed railway and the national expressway networks are both expected to take shape during this period.
Luo Renjian, a researcher at the Institute of Transport Research, under the National Development and Reform Commission, the nation's top economic planner, said high-speed trains are always the preferred option for passengers in China. These trains overcome the disadvantages of coaches, which have a poor safety record in particular for overnight services, and they are more convenient than planes.