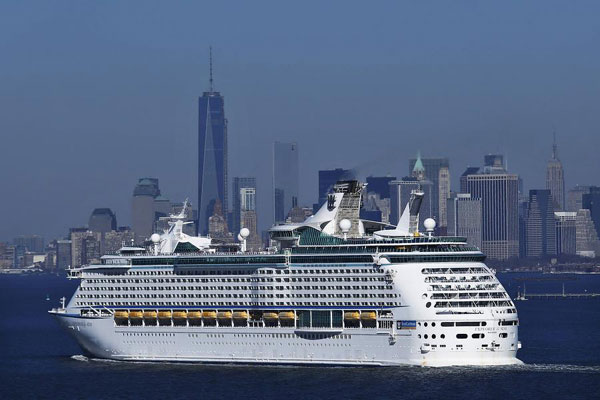 The New York skyline is seen in a distance as Royal Caribbean's Explorer of the Seas enters New York harbour Jan 29, 2014. [Photo/Agencies]
TIANJIN - On Friday, Royal Caribbean's multimillion-dollar cruise liner, Quantum of the Seas, arrived at northern China's Tianjin port, where it will embark on the first of four round-trip voyages scheduled to last until mid-November.
Not even the approaching cold weather could hinder the international cruise line's efforts to enter China's booming leisure market.
China's cruise market is developing quickly despite an economic slowdown, with the number of passengers growing from several thousand in 2005 to 1.72 million in 2014, figures from the China Communications and Transportation Association showed.
By 2020, the cruise industry is expected to contribute 51 billion yuan ($8.30 billion) to the country's economy, the association said.
"China's cruise market has expanded from one ship with 900 cabins in 2006 to eight liners with 18,000 cabins in 2014," said Zheng Weihang, vice president of the China Cruise & Yacht Industry Association. "And it will continue to grow."
Royal Caribbean's business in China has achieved twofold growth nearly every year since entering the market in 2009, said Liu Zinan, president of north Asia and China at Royal Caribbean International, adding that the company is tailoring its onboard restaurants and activities to Chinese customers' tastes.
The company will send a larger ship, Ovation of the Seas, next year to Tianjin after it is put into service, according to Liu.
Costa Cruise Lines has also seen sharp business increases in the past three years since entering China 10 years ago, according to Huang Ruiling, General Manager of China Costa Group Asia Pacific & China.
The company is continuing to increase its cruise capacity by 50 percent annually, she said.
Yue Tong, a 30-year-old white-collar worker from Tianjin, said he enjoyed spending an afternoon on the cruise reading poetry with free pizza and coffee available.
"There are many things to do, activities to participate in, and performances to watch on the cruise, and you can choose either to have some quiet time or join the crowd," he said. "Life is really colorful on the ship and you'll never be bored. However, the on-shore activities are less wonderful."
The growing popularity of cruises has attracted domestic investors.