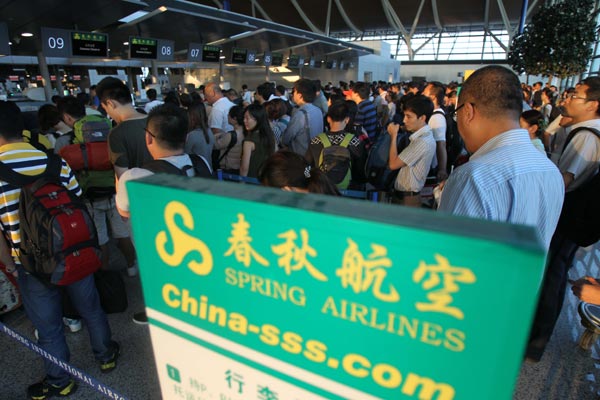 Spring Airlines Co Ltd, the first low-cost carrier in China, took off in 2005 and runs 15 international routes, making up 18 percent of its entire network by the end of 2013. Provided to China Daily
Spring Group, the parent company of Shanghai-based Spring Airlines Co Ltd, is launching a new hotel brand in Japan in association with a local partner, marking its first entry into the overseas hotels sector.
The new brand, SpringSunny Hotel, is a joint venture between the group's Shanghai Spring Investment Management Co Ltd and Japan's Sun Frontier Fudousan Co Ltd, a Tokyo-listed property service provider.
Over the next three to five years, the two sides plan to invest more than 20 billion yen ($166 million) expanding the new brand in Japan's major tourism hotspots.
Wang Zhenghua, founder and chairman of the Shanghai-based budget airline operator, said the idea to open hotels was first sparked last year, when the airline launched direct flights from some Chinese cities to Osaka, Japan.
Passenger feedback showed many customers were surprised to find a lack of hotel rooms in the city, said Wang.
Lu Ronghua, general manager of Shanghai Spring Investment Management, said the new brand's designs will aim to combine different Asian tastes.
Initially, a batch of 15-20 SpringSunny hotels is planned, said Lu.
He Jianmin, a professor at the Shanghai University of Finance and Economics, who specializes in tourism management, said Spring's decision to enter the hotel sector was very much in line with the Chinese government's call for more domestic firms to expand abroad.
"It is a smart move to follow in the footsteps of Chinese travelers, by setting up hotels or travel agencies which will give them a welcome feeling of home, while at the same time, feed some business back to China," he said, adding this is already a common travel-industry model in the United States.
"The development of Spring Group provides a good example of industrial chain development."
Started as a domestic travel agency in the early 1980s, Spring Group has continued to explore new travel-related possibilities, always linked directly to providing its customers with a more complete travel experience.
It first launched direct flights to Japan five years ago, and set up an aviation company in Japan in 2012. In 2014, it started to offer domestic flights in Japan.