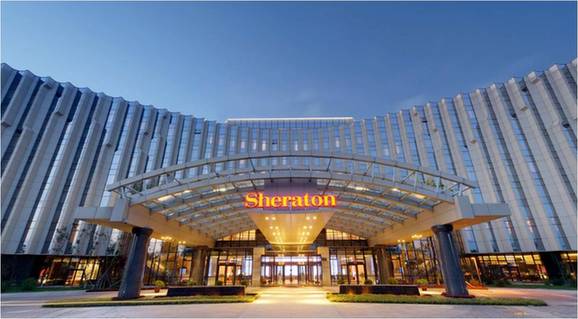 Sheraton Changchun Jingyuetan Hotel [Provided to chinadaily.com.cn]
Successful bid would top Shuanghui's $7b bid for Smithfield
Three Chinese companies are planning bids for Starwood Hotels & Resorts Worldwide Inc, which operates the Sheraton, Westin and W hotel chains, in what could be the biggest-ever Chinese takeover of a United States company.
Hotel giant Shanghai Jin Jiang International Hotels (Group) Co Ltd, Hainan Airlines's parent company HNA Group and sovereign wealth fund China Investment Corp are in the fray for Starwood, according to media reports.
The Chinese bids for Starwood come close on the heels of Anbang Insurance Group Co's acquisition of the landmark Waldorf Astoria hotel in New York from Hilton Hotels & Resorts for $1.95 billion in 2014.
According to Dealogic, a market information provider, should the Starwood deal materialize, it would be the largest acquisition of a US company by a Chinese firm. Till date, the largest deal made by a Chinese company in the US is the $7 billion Shuanghui Group spent for pork producer Smithfield Foods Inc in 2013.
On Tuesday, Starwood shares jumped 9.1 percent to close at $74.81 per share, the biggest daily increase since 2009, taking its market value close to $12 billion. When contacted, Starwood refused to provide any details about the bid.
However, it was quite another story for Shanghai Jin Jiang and HNA Group in the stock market. Shanghai Jin Jiang International Hotels Development Co Ltd, a subsidiary of the group, has been suspended from trading. Hainan Airlines Co Ltd, the listed company of HNA Group, fell 0.74 percent to 4.03 yuan (63 US cents) per share.
Even though all the three interested bidders declined to make any comment, their ambition for overseas expansion is quite evident.