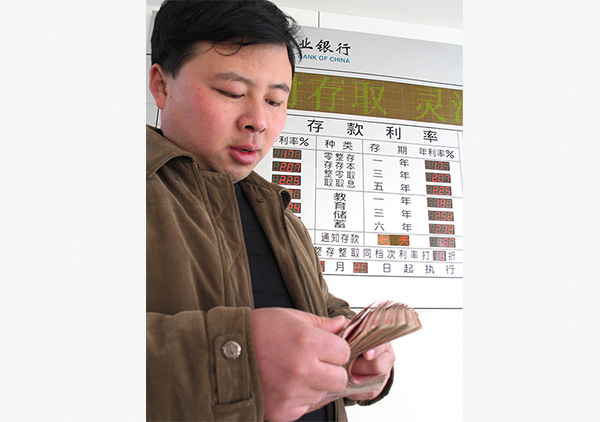 A man withdraws some deposits from his bank account in Liaocheng, Shandong province. The central bank cut interest rates for the sixth time this year, which is likely to benefit listed companies as well as their stocks' performance in the last quarter of this year. [Photo/China Daily]
Investors, especially smaller ones, can be confident of being able to trade in a better environment
The Five-Year Plan (2016-20) mapped out at the Fifth Plenum of the Central Committee of the Communist Party of China that ended on Thursday decided on the key sectors to be developed. This is likely to help China's stock markets to open higher this week, and encourage bullish investors to cash in on shares of companies from such sectors.
Analysts said that the China Securities Regulatory Commission's requirement that off-market margin trading be phased out is scheduled to be met by the end of October. This will also help boost investor confidence this month.
The commission's efforts to de-leverage capital in the equity market since September have been gaining momentum.
Brokerages and account holders in the off-market margin trading chains have been implementing the requirements effectively, according to the regulator.
Meeting the requirements would mean that from November, investors, especially smaller ones, can be confident of being able to trade in a better environment. Investors will focus more on value and growth of performance-oriented companies instead of taking profits through speculation, according to a note of Guoyuan Securities Co Ltd.
Sectors that are driven by consumption and recovery stories related to real economy, like agricultural, textile and manufacturing firms, may benefit the most from the imminent changes.
Consumption is expected to pick up in the last two months of the year. This will also likely encourage bullish buyers to expect growth in their shares' value.
Thanks to Singles' Day online shopping festival, which falls on Nov 11, "online sales are expected to drive consumption worth hundreds of billions of yuan. And in December, as people shop for Christmas and New Year gifts, stocks of companies related to the Internet, textile, food and beverage, and manufacturing sectors will benefit from the shopping peak", said a research note from Aijian Securities Co Ltd.
Economists said they expect the fourth quarter to see higher growth than the third quarter, as data showed evidence of recovery and enterprises ride helpful policies to cut costs.
Further policy clarity in the coming months is expected.
In addition, there is expectation of a shift in emphasis to shorter-term growth through fiscal and monetary easing, like further interest rate cuts, according to a research note of Standard Chartered Plc.
On October 23, the central bank cut interest rates for the sixth time this year.