A series of packing bottles and souvenirs ever produced by US carbonated drink maker Coca-Cola were on display at the Shanghai Mass Art Center (SMAC) on Wednesday.
Gao Chengjie, a Chinese post-80's collector, is the owner of the bottles.
Coke was first bottled in Shanghai backed in 1927 by the Watson Mineral Water Company.
"In fact, Shanghai became the first city outside the US to order 10,000 gallons of syrup in a year during the 1930s," said Ted Ryan Coca-Cola's director of heritage communications.
Along with the soft drink, its design-oriented packing, catchy slogans and increasingly affordable price have been recognized by Chinese along with nation's modern history changes.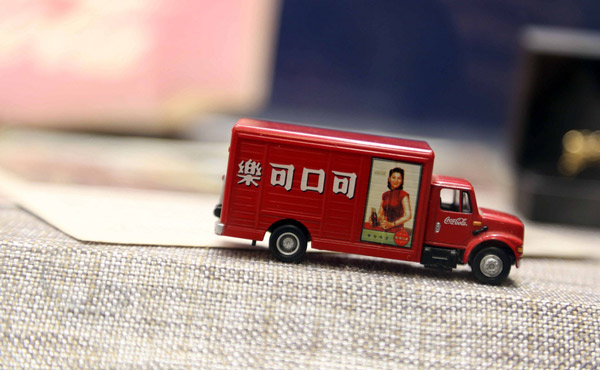 A toy Coke delivery truck on display at the Shanghai Mass Art Center on Nov 6, 2015. [Photo/IC]