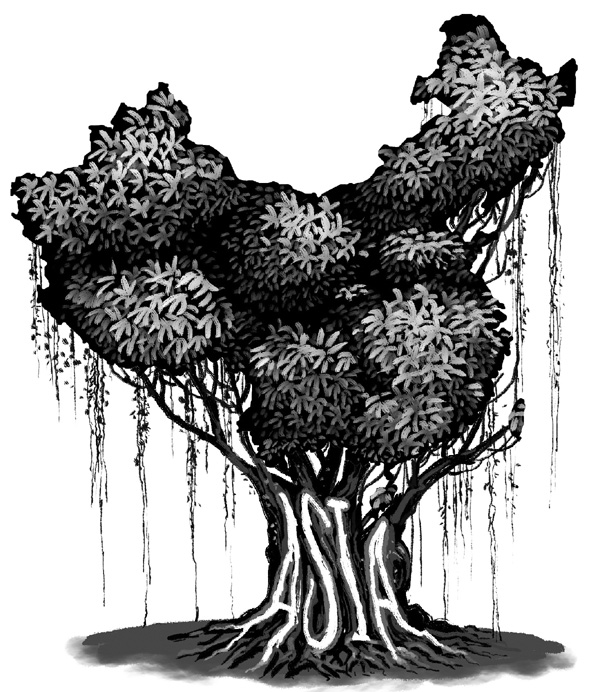 [Luo Jie/China Daily]
China's economic reform process will benefit from solid growth in the Asian region. According to our latest Regional Economic Outlook Update (October 2014), Asia's near-term growth prospects remain solid even as other world regions slip slightly.
Despite a mild slowdown earlier this year, Asian economies are expected to grow at 5.5 percent in 2014 and 2015, broadly in line with the pace of the last couple of years. Downside risks have increased, but so has resilience. This includes countries most affected by the heightened volatility following the adverse market reaction to taper talk surrounding the US Federal Reserve last year. Yet further action is needed to strengthen policy buffers and address medium-term challenges to stability and growth. And inflation should remain benign across most of the region.
So, what is driving Asia's solid growth outlook? First, stronger global growth should help propel exports across most of the Asia and Pacific region. In fact, after a weak first quarter, export growth is gathering steam, and with the strengthening of growth in the United States and expected recovery in the eurozone, this momentum should remain relatively strong.
Second, global financial markets have rallied, helped by a greater appetite for risk amid expectations of higher growth. This environment has also helped boost capital flows into Asia, pushing stock prices higher, narrowing spreads, improving borrowing conditions for corporations, households and governments, and strengthening credit growth.
Policies in Asian economies have also been generally supportive-in particular, real short-term interest rates remain below their pre-global financial crisis levels. These factors should help support robust domestic demand growth.
The overall bright prospects for the Asia and Pacific region nonetheless mask important differences from country to country. China's growth momentum has somewhat moderated in the near term. We expect some gradual moderation to a more sustainable growth path throughout next year, as the ongoing slowdown in the real estate sector and efforts to curb credit growth and rebalance the economy are restraining investment growth. While recent data show a continued softening of growth, this partly reflects the government's determination to move reforms forward, including measures to rein in "shadow banking".
In Japan, "Abenomics" is still providing a lift, but growth should come in slightly below 1 percent this year and next. This is supported by rising private investment-helped by the weaker yen, higher stock prices and rising corporate profits-partly offsetting the effects of fiscal consolidation on domestic demand.
In India, activity has picked up strongly and growth momentum should build on rising business confidence, investment and exports. ASEAN economies should, likewise, see robust growth in 2014 and a slight acceleration in 2015, partly reflecting their exposure to the stronger global economy.
But despite the solid outlook, Asia faces significant risks to stability and growth. In the near term, investors could overreact to rising US interest rates, raising financial market volatility and borrowing costs and, ultimately, lowering growth. Higher corporate leverage and rising household debt could also amplify the adverse effects of higher interest rates on investment and growth. Finally, an escalation of geopolitical tensions could hurt exports and activity more broadly.