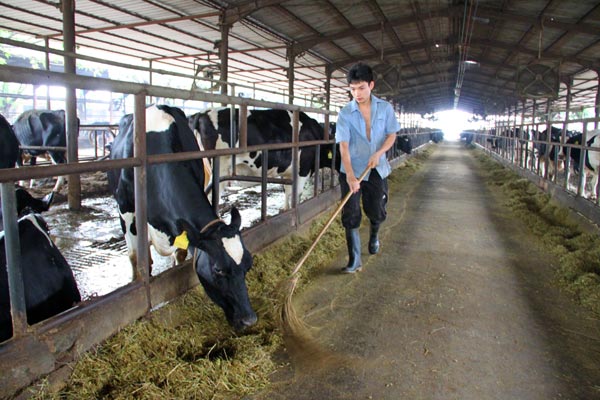 A worker tidies cattle feed at a dairy farm in Guangzhou, Guangdong province. According to the US Department of Agriculture, China is Asia's biggest buyer of US alfalfa hay, a key component of high-quality feed. [Photo/China Daily]
Mainland's rising number of dairy herds need forage, and high-protein crop fits the bill
As China continues to seek feed supplies for its growing dairy market, the practicality of importing hay feed from the United States continues to improve, according to two California-based exporters.
US farmers and exporters of alfalfa hay in particular are starting to reap the benefits.
"I think the growth in China has been anticipated," said Greg DeWitt, manager of marketing and communications for Acx Pacific Northwest Inc, a California-based hay exporter.
"Alfalfa is the very beginning of so many products, not just milk but also cheese, ice cream, yogurt," DeWitt said. "A lot of people may not realize that alfalfa is just a base for that."
Over the past decade, DeWitt said exports "grew exponentially" from Acx's operations in the US to China, due in part to the "interest and awareness around alfalfa".
There has been a steady increase in demand for hay products around the world, "not just in China", DeWitt said.
"China has little choice but to turn to US farmers to help supply feed for the country's growing herd of dairy cows," the Los Angeles Times said in a recent report. "Packed with fiber and protein, alfalfa hay is considered the gold standard for forage, and … since 2009, US alfalfa exports to China grew nearly eightfold to a record 575,000 tons."
China is now Asia's biggest buyer of US alfalfa, as well as the biggest global destination for US food and agricultural products, according to the US Department of Agriculture.