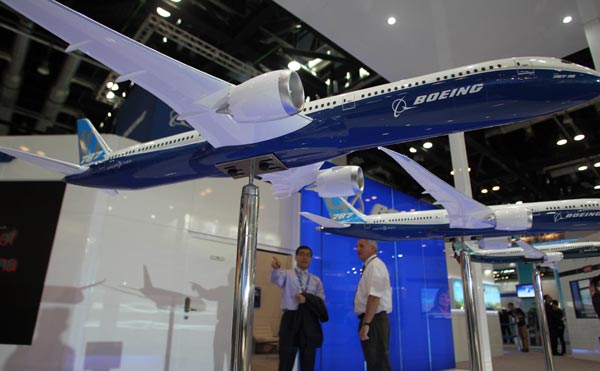 The Boeing Co's aircraft model showcased at an international airshow in Beijing. Boeing delivered 168 aircraft to China in 2013. Zou Hong / China Daily
Bertrand-Marc Allen, for the past three years China president of The Boeing Co, settled into a new and significant position back in Seattle on March 14.
Thirty-six months ago, it was a surprise that the then 38-year-old was called to lead one of the US airplane manufacturer's key markets, but his promotion after completing his term of office in China seems a natural move.
The Chinese market is vital for Boeing because it is already the second-largest market for the airplane builder - and will become the largest before the end of this decade.
Boeing was clear about the company's expectations of the regional president. "The Chinese market is as important, and eventually may well be even more important, than the US market. The people who will lead our company in the future have to have personal experience in China," Jim McNerny, chief executive officer, said in an interview.
Allen's new position is president of Boeing Capital Corp, which is one of Boeing's three major divisions. It is concerned with helping clients find financing from capital markets and also leasing aircraft to them.
The new position was devised by McNerny three years ago.
"If he continues to do well, he will be part of the senior leadership of the company," McNerney said then.
Allen said he focuses on the present rather than future possibilities. He was still fully hands on in charge of Boeing's development in China until he left, including government relations and industrial cooperation.
"I think about life literally one step at a time, one day at a time," said the law school graduate.