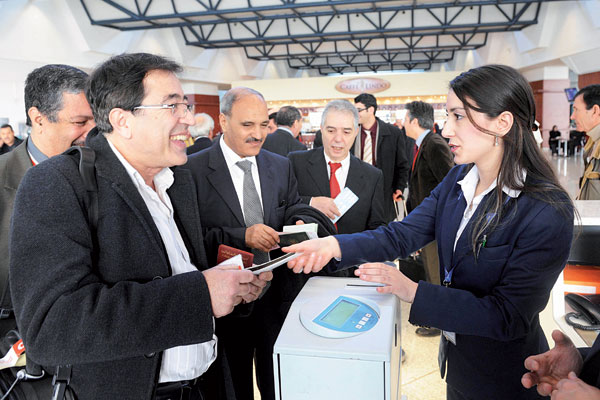 Passengers boarding a flight to Beijing in Algiers. Algeria began to operate direct flights to the Chinese capital in 2009. Yin Ke / Xinhua 
Those traveling between Africa and China used to put up with many challenges
Traveling to Africa used to be a nightmare for Yan Kai, the senior manager of a machinery company in Beijing in the past because it involved flight changes, lengthy stopovers and extensive time delays.
Yan, however, says that things have improved considerably as burgeoning trade and investment ties between China and Africa have prompted airlines from both sides to establish more connections.
"My first trip to Africa was in 1997 to Accra in Ghana," Yan says. "The trip took nearly 35 hours and had long, expensive stopovers in Amsterdam and Paris. Since 2000, the situation has improved considerably. Middle Eastern carriers such as Emirates Group and Qatar Airways Co QCSC now provide several travel and transit options to Africa."
Better ties between China and Africa will help stimulate bilateral trade as more secondary cities establish air links. Currently most of the flights to China operate from African cities such as Addis Ababa, Nairobi and Johannesburg.
"There has been a steady growth in the number of Chinese people traveling to African countries and vice-versa," Yan says, adding that more connections with other African and Chinese cities are needed.
"China is a major trading partner for many African nations. Coupled with the growing number of tourists and air traffic between the two sides, it will witness steady growth," says Elijah Chingosho, secretary-general of the African Airlines Association. The association, based in Ghana, is a trade grouping that fosters ties between Chinese and African carriers.
"Our estimates are that air traffic between Africa and Asia will grow by 8.1 percent every year until 2030," he says.
International air traffic to and from Africa has been growing by about 6 percent every year over the last decade, while domestic air traffic in Africa grew by 12 percent annually, the African Airlines Association said in its 2013 annual report.