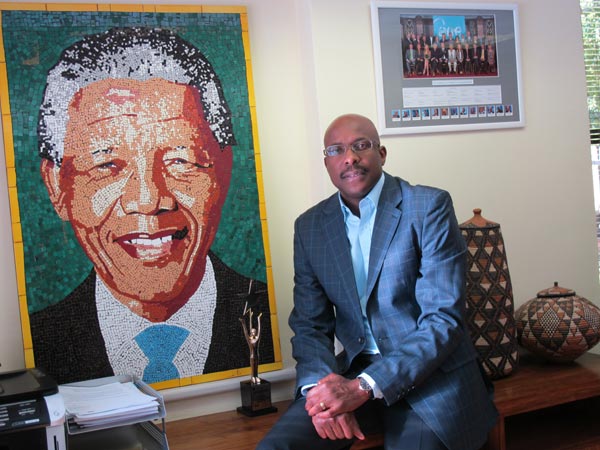 Miller Matola says more Chinese investors have established manufacturing factories in Africa to make a real contribution to local economies. Li Lianxing / China Daily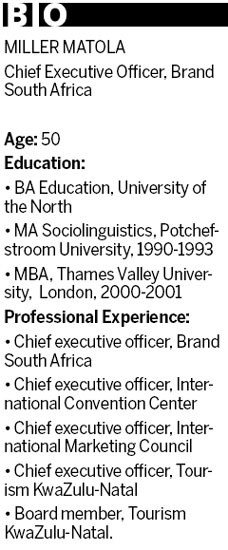 A new national marketing strategy is promoting the country as a vibrant destination for tourists and culture
Chinese investors in Africa have become more aware of the need for sustainable development and a closer bilateral relationship that relies on efforts from both sides, a senior South African official says.
"I have heard in length about China's going global strategy, which stresses a win-win situation when investing in this continent," says Miller Matola, chief executive officer of Brand South Africa, which is the country's official marketing agency. "Increasingly what you are seeing among Chinese investors in Africa is an understanding of the notion of the developmental aspect of investment on the continent."
He says past Chinese involvement in Africa was mainly focused on bringing resources back to produce goods in China and then selling the commodities to the world, including Africa. But now they are gaining awareness of a more mutually beneficial approach.
"You can see a shift in the new investors' mindset that it's not just coming in and taking away. They have established manufacturing factories in Africa to make a real contribution to local economies," Matola says.
To further attract this kind of beneficial investment, BSA set up an office in Beijing late last year to promote its country as an ideal investment destination and to seek business opportunities for South African companies in the Chinese market.
"China is a significant and long-term strategic partner with South Africa, which is a very strong base not only for increasing investment and trade between us, but also for transferring skills, technology and knowledge between two sides," Matola says. "For instance we can learn a lot from China in terms of how it is able to address its developmental challenges around security, job creation and poverty reduction."
He says China is one of South Africa's biggest partners. Trade between them has increased tremendously during the past few years, from $4.6 billion in 2004 to $60 billion in 2012.