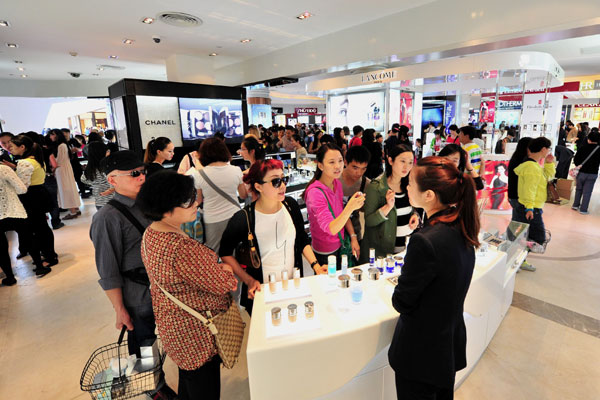 Tourists shop for duty-free goods in Sanya, Hainan province. The two duty-free shops in Sanya and Haikou in Hainan attracted 1.1 million shoppers and generated 3.3 billion yuan ($539.22 million) in revenue last year, data show. So far, only Beijing, Shanghai and Hainan province offer duty-free opportunities in China. Zhang Yongfeng / Xinhua 
A senior Tibet tourism official and legislator is proposing to the country's top legislative conference to open three duty-free shops in the autonomous region and encourage domestic and overseas investments to create a "world tourism destination".
If the proposal is approved, Tibet would become the fourth provincial region in China, following Beijing, Shanghai and Hainan province, to offer duty-free benefits.
"The shops would improve our tourism environment, elevate service standards, create jobs and revenue, and promote the development of ethnic and local cultural products," Hongwei, deputy head of Tibet's tourism bureau and a deputy of National People's Congress, said on Tuesday.
"It will also strengthen the international competitiveness of our tourism industry and facilitate our efforts to build Tibet into a world tourism destination."
Under the proposal, two such shops will be opened in the urban area of Lhasa city and Nyingchi city, with another one at Lhasa's airport.
Domestic and foreign tourists, local residents and army personnel aged over 16 and holding a valid ID certificate are eligible to enjoy the benefits.
Tourists can collect their duty-free items in specified areas of airports or railway stations. They can also have the products shipped.
Products in the catalog include not only luxuries such as watches and perfumes but also local specialties such as Tibetan medicine, processed yak meat and handicrafts.
In 2012, Hainan province implemented its adjusted duty-free policies.
According to customs figures, two shops in Sanya and Haikou in Hainan province attracted 56,000 shoppers and generated 226 million yuan ($36.8 million) of revenue in the Spring Festival week (Jan 31-Feb 6), increasing 30 percent and 33 percent year-on-year respectively.
In 2013, Tibet received 12.91 million tourists, of whom 223,000 came from abroad, local government work reports said.
Hongwei added the autonomous region should also consider inviting domestic, overseas and joint-venture tourism companies with an excellent track record to help develop the plateau's tourism industry.
Local industry experts said Tibet is facing a series of challenges including poor infrastructure and transportation, high fees and a smaller offering of products and services.
"Our planning for the industry has its constraints. Some tourism operators damaged the environment and wasted resources. That has led to a bad reputation, to some extent," Hongwei said, in explaining why the authorities are contemplating the possibility of bringing in world-class investors.
"Without world-class brands, we can't say Tibet is a world tourism destination.
"We can benefit from influential overseas and joint-venture companies that can bring us management expertise, innovation and ideas for the healthy development of the industry." Hongwei said.