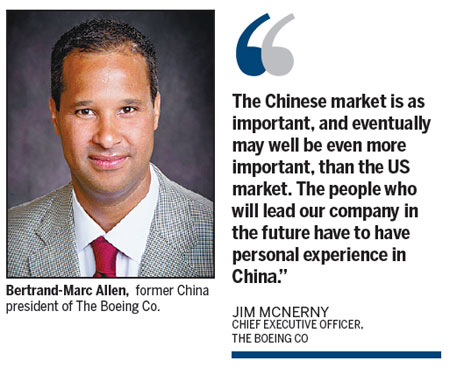 The first time I met Bertrand Marc Allen was at Beijing Airshowin 2011 September - six months after he came to China and two months after I started to cover the civil aviation industry.
After the 30minutes of questions and answers, Allen asked me what my view of the air show had been. "Were there any differences between this one and the Zhuhai airshow?"
As a greenhorn in civil aviation reporting at the time, I did not know how to answer the question, but I sensed his eagerness to learn more about China and the aviation industry here.
At the end of 2011, the Boeing 787 Dreamliner began its global tour from China. Several senior executives of The Boeing Co in the region attended the ceremony in the hangar of the Aircraft Maintenance and Engineering Corp (Beijing). Allen, wearing a flight jacket, stood out distinctively from his suit-wearing colleagues.
"He looks like a pilot but is too tall," said one reporter. "He's more like a basketball player," said another.
At the signing ceremony for cooperation programs with Commercial Aircraft Corp of China Ltd, he was surrounded by many reporters. He greeted me with a wink.
"He is so American," I said to myself.
Other reporters said he also winked at them on occasion and we agreed he didn't distance himself from reporters, despite being an expatriate.
As a former attorney, he is sophisticated and knows how to communicate with journalists.
It is not easy to get provocative statements from him. I suspect he is aware of being led on by journalists and watches his words closely.
After two years working in China, Allen still managed to surprised us on occasion.
At the 2013 Beijing Airshow, he commended the Airbus 330 regional variant, describing it as a baby with an altered birth certificate.
"It is not a new baby," he said. I remember this as being the first time he had been critical of the rival.
Allen usually talks about his family on his Weibo site. He has a beautiful wife and four children. He says he is a family guy who tries to spend weekends with them.
Because of the time differences between Beijing and Seattle, he had to work in both time zones, which means working all the time.
His timetable will be easier after returning to base in the United States.
But Allen said he will probably try to come to China two or three times a year in his new position.
The last time I interviewed him as president of Boeing China, he said in Chinese: "I am a half-Beijinger."