But calls are made for it to be better monitored to ensure more fairness
With an Internet population larger than that of the United States and Japan combined, China saw its online shopping maintain an annual growth of 140 percent in sales since 2004, making it a powerhouse in driving up domestic consumption.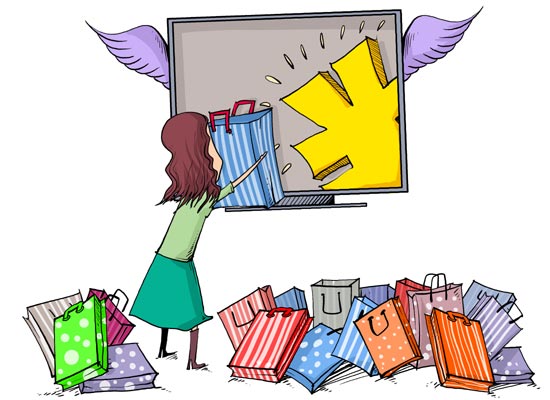 Considering the increasing weight of consumption in China's gross domestic product, online shopping has great room for future growth. The number of the country's online shoppers has grown at an annual rate of nearly 50 percent since 2008. [Photo/China Daily]
Online shopping in China has an immense Internet consumer base, said Liang Da, an expert with the National Bureau of Statistics.
The number of online shoppers has grown at an annual rate of nearly 50 percent since 2008. Sales of online retailers accounted for 4.3 percent of the country's overall retail sales of consumer goods in 2011, up from 0.08 percent in 2004, according to the bureau's statistics.
Chinese shoppers spent 511.9 billion yuan online in the first six months of this year, up 46.6 percent year-on-year, according to a report by the China e-Business Research Center, a market analysis company based in Hangzhou, Zhejiang province.
China was home to 214 million online shoppers by the end of June, up 23.7 percent year-on-year, the report said.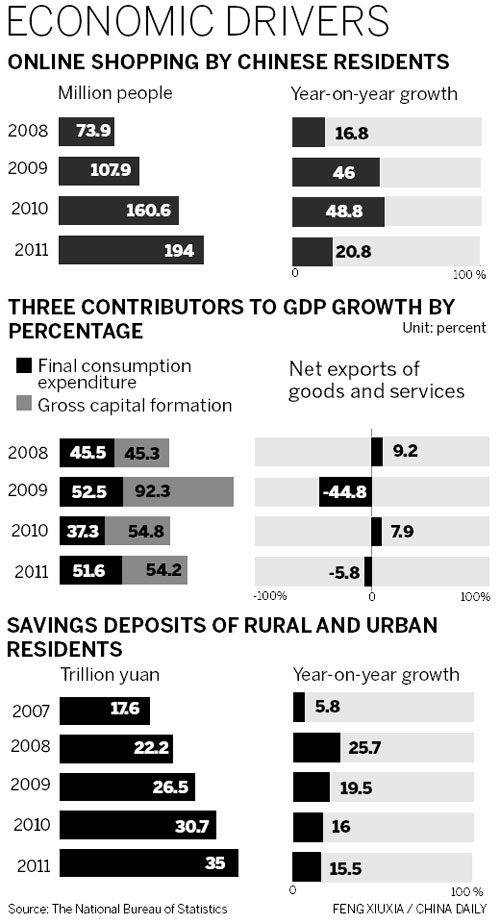 Chinese online shops, such as 360buy.com, Tmall.com and Suning.com, are providing a variety of goods and services for customers, sometimes at a discount price that make them attractive to netizens, market experts said.
Many online shops have less inventory pressure and all have lower operational costs, enabling them to set lower prices to compete with traditional shops for custom. For example, books sold at online shops are usually 30 to 40 percent off the regular prices and cosmetics are usually 20 to 30 percent off.
The burgeoning of online shopping is also related to the quick pace of modern life and people's desire to follow new and trendy patterns of consumption. That is why online shopping is especially popular with younger people and those who have advanced degrees. Among them, many look to purchase luxuries online.
A report by McKinsey & Co says that China's luxuries market is growing at a rate of 18 percent every year and is expected to take up 20 percent of the global market share by 2015. According to statistics from China e-Business Research Center, sales of online luxuries amounted to 10.7 billion yuan in 2011, increasing by 67.2 percent. The figure is expected to rise to 23.8 billion yuan by 2013.
Increases in people's income, the popularization of personal computers and advances in Internet technology set the stage for China's booming online retail market.
The disposable income of urban residents averaged 21,810 yuan in 2011, representing an annual growth rate of 9.2 percent after taking inflation into account. The income of rural residents averaged 6,977 yuan, an annual increase rate of 8.1 percent.
Disposable income refers to the amount of money that households have available for spending and saving after income taxes have been accounted for. Disposable personal income is often monitored as one of many key economic indicators used to gauge the overall state of the economy.
China's per capita gross domestic product exceeded $5,400 last year. In big cities such as Guangzhou, Shenzhen and Shanghai, per capita GDP has reached $10,000. The accumulation of wealth has greatly boosted people's purchasing power, driving the growth of online shopping and domestic consumption as a whole, according to the NBS.
Savings deposits of urban and rural residents will be the major force in pushing economic growth. The per capita savings deposits in China are very high, reaching more than 20,000 yuan at present. By contrast, residents in the US each owe an average of $15,000 to the banks, Liang said.
The savings of residents are the prerequisite for online shopping and they also make personal computers and advanced Internet technology accessible to more and more people, thus providing the essential tools to accelerate the upward trend.