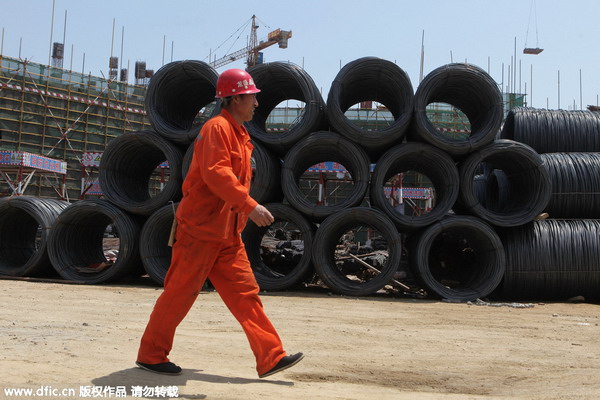 A Chinese worker walks past a stack of coiled steel rods on a quay in Rizhao city, East China's Shandong province, April 29, 2015. [Photo/IC]
Baoshan Iron and Steel Co and Wuhan Iron and Steel, two of China's largest steelmakers, announced on Sunday that they would suspend share trading on the Shanghai Stock Exchange amid ongoing strategic restructuring planned by their respective parent companies.
The restructuring plans are still subject to regulatory approval, and due to uncertainties surrounding the matter, both companies have applied to halt trading of their shares on the Shanghai bourse from Monday (Jun 27), according to the filings of the two, which state that "after five trading days the companies will release a new development on the restructuring".
According to the 2015 ranking of the world's major steel-makers by the World Steel Association, Shanghai-based Baosteel is China's second largest and the world's fifth largest steel-maker by output, producing 34.94 million metric tons last year, while Hubei-based Wuhan Steel was rated China's sixth and the world's 11th largest steel mill-producing 25.78 million tons.
"The two parties are currently only at the very beginning of forming a restructuring intention, without any detailed work rolled out. So the process is full of uncertainties," said Sun Jin, director of public relations at Wuhan Steel.
Rumors of a possible merger between the two steel plants, which would be the biggest in the history of China's steel industry, have been rife over the past 12 months.
Analysts have said a merger could capitalize on Wuhan Iron and Steel's expertise and advanced technology in oriented silicon steel combined with the leading market position of Baosteel, which supplies about 50 percent of the steel sheet metal used by China's auto industry.
Wang Guoqing, consultancy director at the Lange Steel Information Research Center, a Beijing-based industry think tank, said a merger would produce a new steel group that would be more competitive in both the domestic and overseas market.
"The Chinese government has been working on increasing concentration in the steel industry," Wang said. "Any merger may trigger a round of mergers in the industry. Some companies with low profitability may be gobbled up."
Xu Xiangchun, a senior analyst with Mysteel, a Shanghai-based steel information consultancy, said a merger would bring useful experience to an industry facing weak demand and severe overcapacity.
"The two giant players would set an example for other steel companies on how to work together and integrate smoothly to survive the market.," said Xu.